Footage of a ghost that seems to appear in a dance studio mirror as a girl finishes her routine has gone viral.
In scenes eerily like horror films The Ring and The Grudge almost as soon as the young dancer sits down, the figure appears.
She sits with her back to the mirror as she rests after her routine.
At first it looks like nothing more than her reflection but then the figure in the mirror moves independently.
It slowly stands and turns to face the dancer as she sits on the floor.
The woman seems completely oblivious to what's happening behind her and gets up and strolls out of the studio.
More than four million people have viewed the clip since it was shared on the Facebook group Ghost, Paranormal and Other Weird Worlds in April.
It was captioned: "What do you guys think about this video?"
There were many comments on Facebook from folk discussing the video.
Amanda Lopez wrote: "I watched it two more times. I did not once see a break in the feed. It was edited to speed up to that moment.
"The growling was messed up enough. I believe it was real.
"I think if it were fake, the reflection closest to her would of moved and not one you can barely see.
"I said this once and I will say it again: just because you don't believe in the paranormal doesn't mean it doesn't believe in you.
"There are things out there that nobody can explain."
It is not known where in the world the footage is from.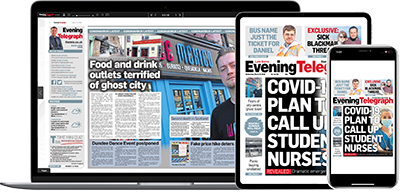 Help support quality local journalism … become a digital subscriber to the Evening Telegraph
For as little as £5.99 a month you can access all of our content, including Premium articles.
Subscribe