Three men caught with £400,000 worth of cocaine have been jailed for a total of more than 13 years.
Kurt D'Cruz, Gilbert MacLellan and Darren McKelvie were sentenced at the High Court in Glasgow after admitting running a major drug operation.
The trio pleaded guilty to being concerned in the supply of cocaine and cannabis.
It was previously revealed that MacLellan was found in his home with the pair and tried to climb out of a window with cocaine-stained hands.
D'Cruz, 28, and MacLellan, 59, had been put under surveillance by officers working on Operation Twisted which was investigating the illegal drugs trade in Tayside.
Advocate depute Liam Ewing said that officers forced entry to MacLellan's home in Whitfield on April 4 last year.
More than a kilo of high-purity cocaine was found in the property, which had the potential to be cut into bulked-out drugs worth more than £406,000 at street level.
During their appearance at the High Court in Edinburgh earlier this year, it was revealed that a cooking pot containing cocaine was on view on a worktop at the time of the police raid.
A search at D'Cruz's then-home at Leyshade Court recovered further drugs and mobile phones while eight kilos of a bulking agent was found at another address.
Analysis of phones taken from McKelvie, 28, showed that he arranged for the importation of benzococaine from China which was delivered to the home of a female acquaintance whom he had assured it was legal.
Cannabis and cannabis resin were also found with the potential to make more than £50,000 if cut up into deals.
The court heard that the men had drug debts at the time of the offence.
D'Cruz, of The Hazels, MacLellan, of Murrayfield Terrace, were sentenced to five years in prison each by Judge Lady Scott – while McKelvie, of Gleneagles Avenue, was jailed for three-and-a-half years.
Detective Inspector Stewart Forsyth, of the Organised Crime and Counter Terrorism Unit, welcomed the sentencing.
He said: " This significant recovery of controlled drugs and sentencing of those responsible sends a strong message to those who deal drugs in our communities.
"Tackling all forms of Serious and Organised Crime; including those who supply controlled drugs is a priority for Police Scotland and we will continue to target those individuals who are involved in this illicit trade."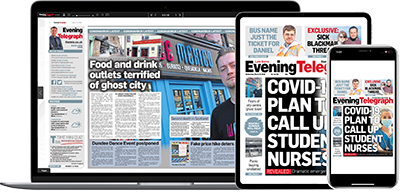 Help support quality local journalism … become a digital subscriber to the Evening Telegraph
For as little as £5.99 a month you can access all of our content, including Premium articles.
Subscribe