An amateur football club has agreed to compensate a Tayside restaurant boss after it admitted some of its players – including one dressed as Jesus – were involved in the theft of a £500 statue.
CCTV footage shows a group of men dressed as elves and snowmen dragging an 80lb Italian chef sculpture from its base outside CriDo's in Perth city centre.
The statue, named Geovani, was beheaded and its remains found the next day on a street in Stonehaven, about 70 miles away.
A football club based in the town has admitted that its players were involved.
A spokesman for Cowie Thistle AFC said: "I've spoken to the owner (of CriDo's) and the club has agreed to pay for the damages.
"The player/players involved will make a charitable donation as a disciplinary measure but as far as we are concerned, the matter is now closed."
Restaurant owner Christian Cojocaru said he was "happy" that the club had agreed to pay him for the stolen statue. He will discuss with the team's treasurer a possible payment to a local charity.
Members of the club were in Perth for a drink-fuelled Christmas day out.
A Police Scotland spokesman said: "While they may have thought it was a prank, this is still theft and is being dealt with as such."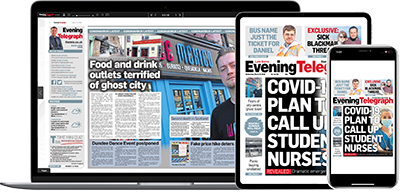 Help support quality local journalism … become a digital subscriber to the Evening Telegraph
For as little as £5.99 a month you can access all of our content, including Premium articles.
Subscribe