A Dundee urban hip-hop artist has shot her first music video in the City of Discovery.
India Rose, from Douglas, has released the official video to her track, Ripp Off.
The 25-year-old said she was "amazed" how the video looked before it was released on YouTube.
Dundonians will recognise a number of locations in the promo which was shot at Linlathen and City Quay.
India's manager, Kirsty Miller, a former pupil at St John's High School said the video had been shot over four weeks.
India said she had written the track in about 20 minutes while on a bus going to her former job at a cafe.
The artist admitted she had initially been too shy to showcase her tracks before finally performing them earlier this year.
She said: "I'm in absolute shock just how quickly this has all come about.
"Kirsty had seen one of my videos on Instagram and it's went from there.
"This was my first-ever video and it's exactly how I envisaged it. Dylan Drummond, the director, has done a great job.
"I wanted it to be filmed in the scheme to represent that sense of community.
"I wanted to show it doesn't matter where you come from you can choose your own path."
The track is trying to highlight the social problems young people are facing in modern society.
The independent artist will be performing at tonight's Sleep in The Park before KT Tunstall hits the stage.
India added: "Since the song came out the feedback has been crazy.
"I've got another track I'm looking to bring out called Party Tonight.
"I've been writing songs for about four years now.
"Its crazy to think I'll be going in front of potentially thousands of people at Sleep in the Park this weekend."
India is hoping to release an album of her work later next year.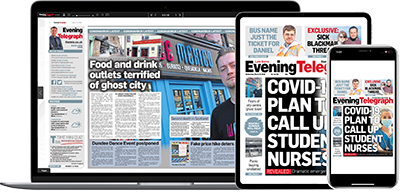 Help support quality local journalism … become a digital subscriber to the Evening Telegraph
Subscribe