A mother and daughter shared a "magical" embrace in the middle of the dancefloor as they brought in the bells together.
Jessie Currie, 87, who is originally from Fintry and suffers from vascular dementia and Alzheimer's, has had trouble remembering her daughter Shirley for the past year because of the condition.
But as they enjoyed a Hogmanay party at the Douglasfield sheltered complex, Jessie surprised everyone when she got up to dance after hearing a familiar song playing on the speakers.
Elvis Presley's track There's Always Me triggered the grandmother's memory and she got to her feet to enjoy it.
Wayne O'Hare, Jessie's son-in-law and Shirley's husband, is one half of the Singing Cabbies who were performing for the crowd in Douglasfield.
He said: "It was just a magical moment. Shirley's mum has lived with us for nearly 12 years. She still recognises Shirley but doesn't know she's her daughter – she thinks she's her mum.
"When Jessie came towards the stage, I don't think either of us could believe it.
"I was thinking, where is she going?
"Shirley kept videoing it and then I took the camera from her.
"Jessie is an introverted woman, so to see her doing that was a nice way to finish off 2018.
"We have watched her deteriorating so it was great to see that just before the bells.
"It just goes to show that music is a great therapy for people."
Jessie's condition is commonly referred to as mixed dementia and can result in slower speed of thought and problems concentrating.
Shirley had been filming her husband singing before Jessie came into the frame.
During the two-minute video, Wayne took the camera from his wife and filmed her dancing with Jessie. He said: "Both myself and Shirley have watched the video back a few times now.
"Jessie is a big music lover – we still put CDs on in the kitchen for her while she is having a cup of tea.
"She still knows all the words to My Way by Frank Sinatra.
"She is also a big fan of Elvis so we think the song triggered something in her."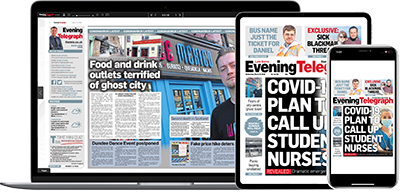 Help support quality local journalism … become a digital subscriber to the Evening Telegraph
Subscribe