A documentary about a city gridiron team dubbed the "worst in Britain" is set to be released this summer.
The movie, inspired by a Hollywood film, follows the fortunes of the Dundee Hurricanes.
The American football team hasn't won a game in 22 months.
Producer and director Alex Harron filmed the team's 2013/2014 season.
The project was inspired by Friday Night Lights — a movie starring Billy Bob Thornton and later made into a TV series — and is scheduled for release in July.
Alex, 36, said he began researching American football in Scotland, before discovering the Hurricanes.
He added: "I have always been a fan of American football films.
"After watching Friday Night Lights, I discovered the Dundee Hurricanes and approached the team about filming."
The film-maker, from Kirkcaldy, followed the squad around the country as they tried to end their losing streak.
Alex added: "The best way to describe it is Rocky meets American football in Dundee. I'd previously watched Friday Night Lights and read the book it was based on. I was interested in doing a documentary about the team and their lives away from the field."
The documentary shows the team competing in six matches, with Alex adding: "It was incredible seeing a team made up of 70% Scottish players and 30% Americans.
"They had players from Dundee, Arizona, the Midwest and Staten Island — people from all walks of life, including policemen, engineers and students.
"There was a bit of a culture clash, but it was great to see how that played out during the season."
Alex said he formed friendships with the players during the filming.
He added: "The players haven't seen the film and it's certainly my intention to have a private screening for them. Initially, we were hopeful to have it released in 2015 but it was unrealistic."
Alex said he will take the film to the Edinburgh International Film Festival, as well as the Sheffield Documentary Film Festival.
The team is holding a recruitment drive for new players next month.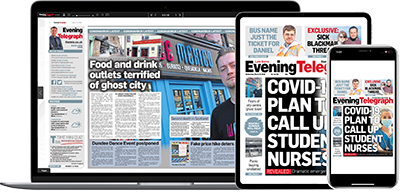 Help support quality local journalism … become a digital subscriber to the Evening Telegraph
Subscribe