The Royal and Ancient Golf Club (R&A) has made a Dundee boy's dreams come true – by bringing the Claret Jug to his bedroom.
Eleven-year-old Joshua Marshall, from Whitfield, was amazed when he came home from school to find the trophy sitting on his bedside table.
Mum Laura Marshall, 35, who works for Tesco, posted a picture on Twitter of Joshua's room decked out in golf memorablia, which went viral.
The R&A then got in touch with the family and arranged to surprise the Ballumbie Primary pupil by bringing the Claret Jug to his home.
Joshua said: "I walked into my room when I got home from football after school and saw the Claret Jug – it was just amazing.
"I checked all the names and saw all the golfers that I love.
"I got to hold the trophy which was amazing, because golf is my favourite sport.
"I was really excited. They brought one of the most famous trophies in golf to my room – it's just crazy."
Joshua has been playing golf since he was two and has a handicap of 27.
He plays for Ballumbie Castle Golf Club Juniors and Angus County Golf Association.
Laura said: "We were a bit overwhelmed at the whole thing, especially Joshua. He is a big golf fan.
"It was an unbelievable experience.
"It's quite unusual for a young boy to be so interested in golf – normally it's football.
"As a parent, to see his response, it was just amazing. His face was priceless."
It was Joshua's dad Andrew, 36, a teacher from Whitfield, who decorated his room.
He said: "We were just blown away by the response on Twitter.
"Joshua wanted his room to be more grown-up and wanted a golf-themed wall so he could hang up all his signed flags. We put up The Open graphic on his wall too.
"He's got signed flags, a signed marshall's hat and a 'be quiet' sign from The Open."
The family have been overwhelmed with the response on social media. Laura's tweet has now been liked 1,800 times.
Joshua said: "I can't believe my mum's tweet got so many likes. I was astounded when it was only at 100. I just kept watching it go up and up."
Laura said she has received kind words on social media from people all over the world.
She added: "We have had so many messages, from as far away as America."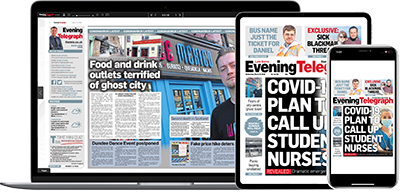 Help support quality local journalism … become a digital subscriber to the Evening Telegraph
For as little as £5.99 a month you can access all of our content, including Premium articles.
Subscribe