A Dundee street was filled with police after a woman was allegedly stabbed inside her home.
Dozens of officers swooped on Hoylake Place in Ardler.
A spokesman for Police Scotland confirmed a 32-year-old woman had been arrested while another woman was taken to hospital.
It is understood the woman suffered injuries to her legs.
Resident Isabel Myles, 70, said: "I saw the police from around 7.30pm yesterday.
"There was ambulance and police at one of the properties.
"The house was blocked off with police tape.
"We saw the forensic officers going into the house last night and they are still here today. The street is very quiet but last night we had at least five police cars.
"There were police dogs on the scene as well.
"Police came to the door and asked if we had seen anyone leaving the property but we hadn't."
Another neighbour said: "There were no sirens, but two police cars initially arrived.
"The police came to my house last night and took a statement.
"They have been here all night and they are still here just now.
"There were two ambulances here at one point as well yesterday evening. We've heard she had few injuries and is now at Ninewells Hospital."
A police spokesman said: "Police Scotland attended Hoylake Place shorty before 8pm last night in response to reports of an ongoing disturbance.
"As a result of inquiries made, a 32-year-old woman was arrested. Further inquiries into the incident are ongoing."
An ambulance spokesman said: "We received a call at 8.06pm to attend an incident on Hoylake Place.
"We dispatched one ambulance to the scene and transported one female in her 30s to Ninewells Hospital."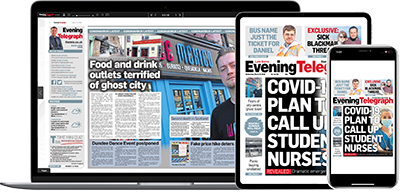 Help support quality local journalism … become a digital subscriber to the Evening Telegraph
For as little as £5.99 a month you can access all of our content, including Premium articles.
Subscribe