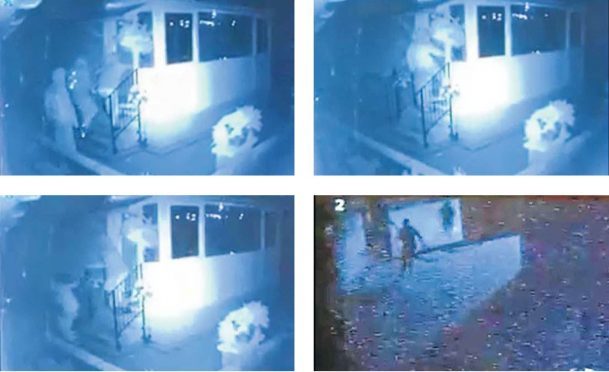 Dramatic images have emerged of the moment three thieves were chased out of a house in Dundee.
CCTV footage of the incident at a property in the Maryfield area of the city shows the trio's botched attempt to raid the property.
Initially the men can be seen sneaking up a driveway, before two of them make their way around the side of the house while the other approaches parked cars.
A separate clip shows the three men making their way up a small set of stairs to a door and entering the property.
But the video then shows them making a hasty exit seconds later after being disturbed by one of the occupants.
The owner of the property in Lammerton Terrace, who asked not to be named for fear of being targeted again, told the Tele that his 27-year-old son disturbed the intruders as they entered the house in the early hours of Monday, sending them running off.
He added: "It was 3am. All the cars were in the drive — they must have known someone was home.
"My son came down the stairs at the same time as they came through the door.
"He had his back to the door and they must have seen him and taken off."
The thieves stole two boxes of duty free cigarettes but left a screwdriver wrapped up with cardboard at the scene.
The homeowner added: "If you look at it then you can see that this was intended to be a weapon and not something to jimmy open a door or something like that.
"It was definitely a stabbing weapon — it was more sinister than just a tool.
"This thing had a point and the cardboard around the handle makes me think that it was to try and keep fingerprints off it. They left it behind though and the police are trying to get prints from it.
"I think they were looking for car keys. I have heard about that happening a lot recently.
"I just think it's a disgrace that there are people who are willing to try and break into a family home at 3am with a weapon.
"I had the CCTV installed 10 years ago after my wife's car was vandalised.
"Now I am going to need to upgrade the system. They took cigarettes but they were duty free and the police said that they have a serial number.
"If someone gets caught with a packet of them on them they'd know it was them."
A Police Scotland spokesman said: "We can confirm we are investigating a theft which occurred about 3am on Saturday September 30 from a house in Lammerton Terrace, Dundee.
"Three men all dressed in grey clothing entered a utility room at the rear of the house and stole a quantity of cigarettes.
"Fortunately they were unable to gain further entry and made off without taking anything else.
"There is no further description of the three persons involved.
"However, we'd like to remind everyone of the importance of ensuring that all doors and windows of your home are secure at all times."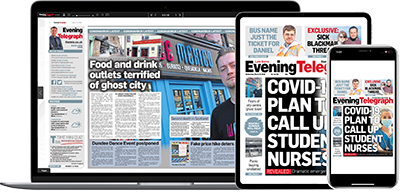 Help support quality local journalism … become a digital subscriber to the Evening Telegraph
Subscribe