The son of an elderly Broughty Ferry couple who were robbed by armed and masked intruders says he believes his parents' house was specifically targeted.
Ian Youngs, 40, was speaking after seeing CCTV footage showing two men approaching the house in Clearwater Park just after 7pm on Wednesday.
Frances and Phillip Youngs were sitting in a room at the back of their home on Strathyre Avenue when two men appeared in front of them.
The robbers threatened the couple with a weapon, believed to be a knife, before locking them in a bathroom as they raided their home.
The thugs took more than £650 in cash, as well as jewellery worth thousands of pounds, including two Rolex watches, before stealing a car belong to the carer of their disabled daughter.
Ian, from Monifieth, said: "I think my parents' house was targeted.
"Why else would they walk so far down the street, passing other houses, then cross the road?
"They seemed to stop and chat outside mum and dad's house.
"There are several things that make me think they knew exactly where they were going."
Ian said he was offering a reward for any information leading to the robbers' prosecutions.
He said: "Someone must know who these people are. This has really upset my whole family.
"Mum and dad are in shock and my dad in particular has been very badly shaken by what happened.
"This was a disgusting, despicable thing to do to two elderly people. I want whoever did it caught and punished."
Police have confirmed that inquiries into the robbery are ongoing, and no arrests had been made.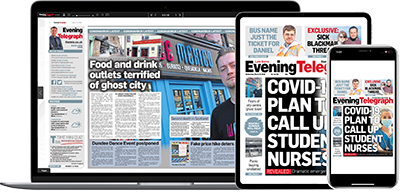 Help support quality local journalism … become a digital subscriber to the Evening Telegraph
Subscribe