A Dundee woman who is largely blind is among several locals hoping to regain their independence thanks to new technology.
Kathleen Jackson, from Lochee, is blind in one eye and suffers from ocular degeneration in the other.
However, after attending a demonstration at the Dundee Blind and Partially Sighted Society (DBPSS), she is able to look to the future with renewed confidence.
Losing your sight can rob you of your independence – affecting everything from getting a bus into town to picking up shopping or reading menus when eating out.
But 21st Century thinking has led to a number of innovations which give people with vision issues the next best thing to getting their sight back.
Thanks to the help of a finger-sized piece of kit, Kathleen, 71, was able to pick lunch off of a menu.
Upon trying out the device, called an OrCam MyEye, for the first time, she said: "This could give me a bit of my independence back. It was absolutely brilliant.
"When I'm looking at text up close it's usually just a blur – so it would be really good to be able to read for myself again.
"My husband buys the Tele and reads it to me, and he helps me with menus at restaurants.
"But with this I could shop around for myself."
Her daughter, Catherine, 49, said: "It would be brilliant, something like this.
"It would give her a new lease of life."
The kit clips on to any pair of glasses and has a camera that can recognise printed text on paper, signs and computer screens.
It then reads the text to the user out loud via a tiny speaker.
The top-of-the-range model can recognise faces once they have been programmed in, and can scan barcodes and recognise labels to help people shop.
Alison Rae, office manager at DBPSS, said devices such as the OrCam are among several modern answers to the problem of helping blind people to see.
"These will enable people to be independent again," she said.
"And the important thing with a lot of these devices is that they are easy to use, with not too much to get hung up on. It's the first I've seen that people have been really interested in because it's very easy to use, but I imagine more will come along soon.
"It's really important for a lot of people to retain some of their independence, especially as they get older.
"It can be a bit of shock doing everything for yourself all your life and that being taken away."
Ian White, the OrCam trainer for Scotland, is an advocate of the device – as a legally blind man himself, he uses it every day.
Speaking after demonstrating the device to locals, he said: "It has certainly been a game changer, even just for me. I use mine every day.
"I had been researching it myself for a couple of years before I even got the job here.
"I just happened to be in the right place at the right time."
Of course, such advanced gadgets comes with appropriately hefty price tags to boot.
The MyReader, which recognises text, is £2,700, while the MyEye, which boasts the extra recognition features, is £3,500.
Kathleen added: "It is a lot of money – but you can't put a price on your sight."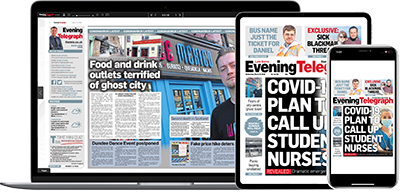 Help support quality local journalism … become a digital subscriber to the Evening Telegraph
For as little as £5.99 a month you can access all of our content, including Premium articles.
Subscribe