People were forced to flee their homes after a suspected deliberate fire ripped through bushes and fences just yards away.
Firefighters were called to a footpath to the rear of homes on Bellisle Drive in Mid Craigie just after 7pm on Tuesday.
An area of bushes, hedges, fencing and wheelie bins were alight, with flames seen leaping several feet and a large plume of smoke billowing into the air.
A crew from Kingsway East fire station remained at the scene for nearly an hour to tackle the flames.
An investigation was set to get under way amid fears the fire had been set deliberately, though there was no immediate indication as to what had caused it.
Denise Boyle, 60, of Bellisle Drive, said the blaze started close to her home.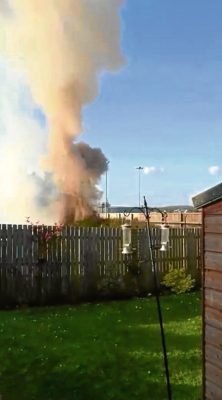 She told the Tele: "The fire started in the honeysuckle hedge to the rear of my property — it went up in minutes.
"I was in my kitchen and when I initially saw the ash I thought it was snowing.
"I came out and the flames were at least 12 feet high. I contacted the fire service straight away.
"This garden is my pride and joy since my husband passed away.
"I believe the fire has been set deliberately.
"I don't believe I have been singled out but there is a public footpath there. It could have been anyone.
"I'm just relieved no one was injured.
"The neighbours have three dogs who have a kennel space in the garden.
"Fortunately the family and the dogs were all away out at the time.
"I'm looking at at least a few hundred pounds worth of repairs but credit to the fire service, they were here really quickly and did brilliantly."
Self-employed gardener Billy Queen, 40, captured the blaze on video.
He said: "I saw the smoke billowing over and when I went to the rear of the house the fire was spreading rapidly.
"I couldn't believe how high the flames were. I was concerned for my neighbours but fortunately everyone is OK."
Bryan Nelson, watch manager at the Kingsway East fire station, told the Tele the matter was being investigated by police.
He said: "There was significant damage spanning two garden spaces. When we arrived, tenants had self-evacuated and the crew were able to get the main body of the fire under control.
"We remained on scene to ensure the fire hadn't spread. Due to the warm and dry conditions fires of this nature can spread very quickly."
A spokeswoman for the Scottish Fire and Rescue Service added: "A crew from Kingsway East attended after bushes and fences caught fire. A hose reel jet and shovels were used to tackle the blaze which spanned a number of properties."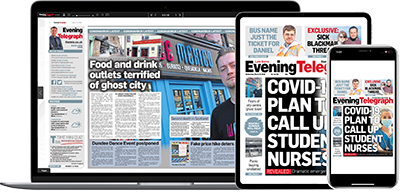 Help support quality local journalism … become a digital subscriber to the Evening Telegraph
For as little as £5.99 a month you can access all of our content, including Premium articles.
Subscribe