These incredible images show the work of an artist who is painstakingly recreating Dundee by hand.
Carl Lavia, also known as Sketch, is undertaking the gargantuan task of drawing all 69 major UK cities over the course of the next six years.
Having already drawn Birmingham, Manchester and Edinburgh, the 46-year-old self-taught artist from London has now set his sights on the City of Discovery.
His drawing of Dundee is about one third of the way to completion and depicts minutely detailed recreations of the Perth Road and Blackness Road areas, featuring cars and buses on the busy streets.
He has started work on the city centre, sketching in the new train station, trains on the Tay Bridge and boats on the river.
Carl's huge finished sketch will stretch as far up as the Law and could extend as far over as Broughty Ferry.
Giving his first interview since he began the sketch, Carl said he had been left "fascinated" by the city during his visits and compared it to a "sleeping giant".
He said: "The drawing's going really well. Dundee is the first city in the project that I'd never been to before now.
"I've been trying to put a lot of detail into the buildings to show off the great architecture that Dundee has — I really wanted to get as much in as I could."
As part of his research, Carl has wandered main roads and back streets, taking photos, notes and even sketching landmarks such as The McManus in person to ensure he captures every detail.
He bought books from the city's Waterstones store to learn more about its past, turning the research trip into an educational one, and has made use of drone footage of Dundee to ensure his drawing is accurate
He added: "I found Dundee very fascinating. It's like a sleeping giant. When I came to Dundee, I hadn't drawn a smaller city. But it had these historical elements attached, such as The Beano and Desperate Dan, that I was fascinated by.
"With the V&A and the huge regeneration effort and Dundee's architecture, I found it all very fascinating."
Lorna Le Bredonchel, project co-founder, said its timing was "perfect".
She said: "We are amidst a palpable cultural momentum.
"With Scotland's first design museum opening in Dundee in 2018, Carl and I think it's the perfect time for a portrait of this remarkable city."
Carl has been drawing cities since his school days — hence him earning the nickname Sketch.
In his early twenties, he contracted Guillane-Barré syndrome, a condition that affects the nervous system and can leave sufferers paralysed.
However, he managed to overcome the condition and continue with his work.
His previous city efforts have found their way into museums, libraries and other public spaces, where they have been on show for all to see.
He is hoping to do the same with his Dundee sketch when it is completed in the next two months.
He added: "I want people to see this perspective of where they live.
"I want it to be in a public space where people can have access to see the city.
"We had talked about The McManus, but we would like to show it across other places as well where people can see it themselves."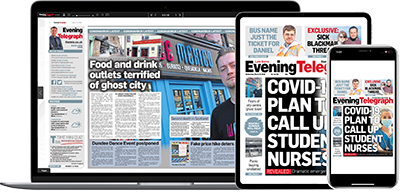 Help support quality local journalism … become a digital subscriber to the Evening Telegraph
Subscribe