V&A staff have taken the wraps off a colourful new exhibit featuring 200 toy planks.
The display is inspired by the theory of children learning through play and was designed by Gabriella Marcella, founder of Glasgow print studio Risotto.
The new installation has been described by critics as "asking visitors to consider if limitations on form and shape help, or hinder creativity" and is entitled Rules of Play.
Made up of 200 enlarged toy planks in five bright colours, Rules of Play celebrates the work of educational pioneer and inventor of the child care system, Friedrich Froebel.
German-born Froebel, who founded the first kindergarten in 1837, believed that play could help children build a better understanding of the world.
Ms Marcella said: "In an increasingly digital world, this installation aims to question what it really means to get back to basics.
"It seems obvious to us now, but Friedrich Froebel was one of the first people to recognise the true value of play and how it can help explain the world around us.
"I became intrigued by the idea that simple tools and forms can help us understand complex ideas."
She added: "Rules of Play uses oversized building blocks to explore pattern and geometry in a three-dimensional space, much in the same way as I've used print to experiment with colourful forms in the past."
Ms Marcella's installation also includes 10,000 Kapla planks plus simple questions written on the wall to help inspire visitors to create their own structures.
V&A project curator Lauren Bassam said: "Gabriella has created a wonderfully playful installation that is not only bright and beautiful, but also challenges the way we think about the basics of design."
The exhibit is on display until Sunday June 23.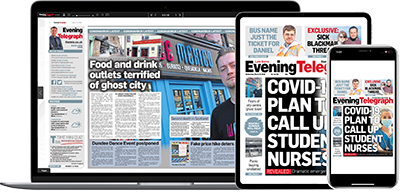 Help support quality local journalism … become a digital subscriber to the Evening Telegraph
For as little as £5.99 a month you can access all of our content, including Premium articles.
Subscribe