Lemmings, Grand Theft Auto, the ZX Spectrum… just some of the creations the city of Dundee has unleashed on to the world of video gaming.
And now bosses at the V&A are aiming to add another name to the list after commissioning their own game to complement an upcoming exhibition heralding the role of the industry in today's society.
The development of Plaything will be featured in Videogames: Design/Play/Disrupt, when it comes to the city on April 20.
The game, exploring character development and the idea of self, is the brainchild of filmmaker Will Anderson and game designer Niall Tessier-Lavigne.
The pair met online through a mutual admiration for one another's work, and recently started collaborating.
They are also joining forces with Kirsty Keatch and Keith Duncan on the sound design for the game.
Players will be invited to create their own characters, which will learn and grow, before fading away from the world they have built, leaving behind a looping film of memories.
Will said: "We want our game to be a kind, thoughtful and surprisingly emotional experience with a character you create.
"We want everyone to have their very own Plaything, and maybe even have a moving experience with them.
"We both went to see the video games exhibition at the V&A in London a few months ago and loved it, so to now be actually making a game in partnership with V&A Dundee is very exciting indeed."
Niall said: "Plaything is about a joyous and meditative relationship between you and a lovely wee thing of your creation, learning to live alongside each other.
"I feel lucky to be getting this support from V&A Dundee to make something new. If we can make something that even just one person can hold close to their heart, I'd be really happy.
"The new exhibition is really special to me because it looks at important issues in games and really respects the people behind all the work."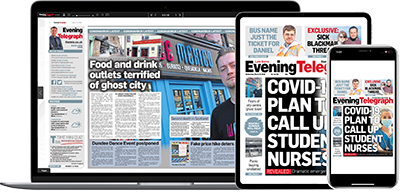 Help support quality local journalism … become a digital subscriber to the Evening Telegraph
For as little as £5.99 a month you can access all of our content, including Premium articles.
Subscribe