A community group has secured £10,700 to help regenerate an "unloved" city street.
The Stobswell Forum is to use part of the five-figure sum to install secure entry systems in common closes at Dundonald Street to improve security in the area.
It forms part of efforts by the group to improve the street, working in partnership with Maryfield Community Regeneration Forum, community police officers and housing associations Hillcrest and Home Scotland.
The forum's Colin Clement said: "Hillcrest has provided us with skips to clear out back gardens behind the closes.
"We're hoping to leaflet the area and try to establish a sort of residents' group.
"We're speaking with the owner of a shop that's been derelict for some time about bringing that back into a marketable condition and put it to good use. The local police have been really supportive too.
"Dundonald Street has been uncared for, unloved, for a while and people know the problems it has.
"We want to try to bring all the people together on this and try something different – it's early days but it's positive so far."
The cash was awarded by the Maryfield Community Regeneration Forum.
Street artist Simon Matheson, also known as Syke, will also be involved.
He will contribute art to improve the street's urban landscape, having recently undertaken a similar project in Perth. He said: "By bringing artwork into areas that are fairly grey and drab, not only does it brighten the area but it brings people in."
Maryfield councillor Lynne Short, inset picture, has given the project her backing.
She said: "It will be a long process but once you get that seed planted and you get people working together it makes the idea of improving the area that little bit easier."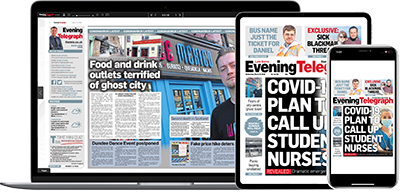 Help support quality local journalism … become a digital subscriber to the Evening Telegraph
For as little as £5.99 a month you can access all of our content, including Premium articles.
Subscribe