Union members have voted 98% in favour of a strike ballot for staff at Angus Council.
Unite the union has today confirmed that members at Angus Council have moved a step closer to industrial action after members voted overwhelmingly in favour of holding a legal ballot.
The move is in response to Angus Council imposing changes to the terms and conditions of 140 staff who work in environmental services.
From April 2019, household waste will be collected from 6am until 10pm which will mean that workers will be required to move to a day shift/back shift work pattern.
Unite members have raised concerns about the dangers of operating the service safely and effectively, and the negative impact that these changes will have on work-life balance.
Dougie Maguire, Unite regional co-ordinating officer, said: "The resounding vote in favour of moving towards an industrial action ballot at Angus Council should come as no surprise.
"Unite members are furious at the proposed changes to shift patterns and working hours, which we believe will lead to a poorer service.
"Unite will now hold a ballot to defend our members' terms and conditions.
"This result should focus the minds of Angus Council or they will face imminent industrial action."
An Angus Council spokesman said: "Changes are being introduced to deliver essential savings and allow us to do so without a reduction in jobs or in our kerbside collection service to households.
"Through this process, we have consulted with other councils operating similar shift systems and carefully considered all operational and safety issues to ensure any such issues are addressed.
"Trade unions and staff have been consulted throughout the development of these proposals.
"We are aware of the outcome of the consultative ballot carried out by Unite.
"Our officers are meeting with Unite this week as part of continuing discussions."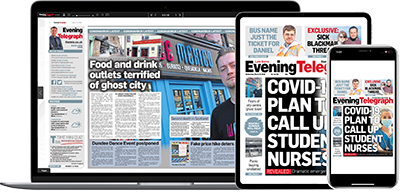 Help support quality local journalism … become a digital subscriber to the Evening Telegraph
Subscribe