Union bosses are to hold talks with Tesco over fears the supermarket giant is to shed nearly 90 jobs at its Dundee customer contact centre.
Tesco has announced plans to simplify its business which are set to impact on an estimated 9,000 staff nationally.
The store has not broken the figures down regionally but union bosses at Usdaw say 88 staff in Dundee could be affected.
In response to the restructuring, Usdaw officials have held one-to-one meetings with their members employed at the centre on Baird Avenue.
They will hold talks with Tesco bosses today about the issue.
Jack Faulds, an Usdaw area organiser with responsibility for the call centre, said: "We have four experienced reps working on this issue.
"We have been led to believe that the number of people affected by this is just under 90.
"We have spoken to our members among the staff and we are to hold formal talks with Tesco."
The changes proposed by Tesco under the restructuring include 90 stores closing their counters with the other 700 having full or flexible counter service.
Changes are to be made to the way stock control takes place to significantly reduce workload.
Tesco claims its staff want to spend more time with the customers rather than moving stock around.
The changes come just three months after Tesco invested in Dundee by creating 200 jobs at the customer contact centre.
At the same time, 200 colleagues at the centre moved from temporary agency contracts to full-time Tesco roles.
The company already employs more than 1,300 staff in its stores across Dundee and Tayside.
A statement from Tesco claims that up to half of the 9,000 people affected are expected to be redeployed to other roles.
Jason Tarry, Tesco chief executive officer for the UK and Republic of Ireland, said: "The market is challenging and we need to continually adapt to remain competitive and respond to how customers want to shop.
"We're making changes to our UK stores and head office to simplify what we do and how we do it, so we're better able to meet the needs of our customers."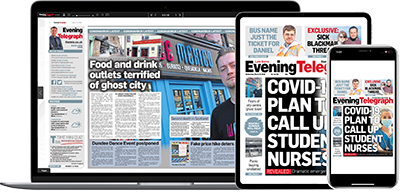 Help support quality local journalism … become a digital subscriber to the Evening Telegraph
Subscribe