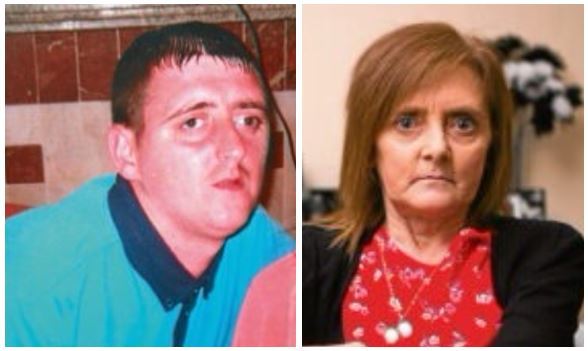 A Dundee mum has issued a heartfelt plea for authorities to tell her how her boy died in police custody — two years on from the tragedy.
Mary Hillocks has been searching for answers since her son Mark Hutton, 29, was found dead by officers at the police office in West Bell Street on March 5 2016.
The Whitfield man was stopped by police on his motorbike the previous day, near to the Swannie Ponds, where he was said to be riding erratically, but passed a breathalyser.
He was taken to West Bell Street, but was found slumped over dead in his cell hours later.
Mary, 52, is still waiting for a Fatal Accident Inquiry (FAI) to be held into Mark's death.
She does not know exactly how he died and says she simply "cannot rest" until she gets justice for Mark.
Her anger has now grown following a damning report on the conditions of holding cells at Dundee's police headquarters.
Cell door hatches, walls, benches and toilets were contaminated with food, drink and bodily fluids, according to HM Inspectorate of Constabulary in Scotland (HMICS).
As the two-year anniversary of Mark's death approaches, she said: "I honestly couldn't believe it when I saw that report on the telly.
"I was in tears watching it. Does it take another person to die in there for them to sort this?
"It's been nearly two years since my son died and I'm still waiting for answers as to exactly what happened.
"I knew the conditions were like this before and it's disgusting that it's still going on."
HMICS returned to West Bell Street station two months after their initial visit and found the situation had been dealt with.
Mary added: "The FAI still hasn't been called and I've been on the phone to the fiscal to see when it's happening.
"They keep fobbing me off and they don't know when it's going to take place.
"I'm still waiting and I don't know what's happening. They've left me hanging on for the last two years."
She added: "I cannot rest until I find out what's happened to Mark and my son can't rest in peace until we find out what actually went on.
"If they had checked on him sooner they would have been able to save him. I wasn't allowed to identify the body and I've not seen CCTV evidence from the cell. We're still waiting on the exact cause of death and it's still heartbreaking even though it's two years down the line."
Samples of Mark's heart tissue had been taken for genetic testing to discover whether a defect known as "QT interval" might have caused his death.
The letter advised Mary that, while there were no genetic mutations associated with the QT interval found, the condition could still have contributed to his death.
A spokesman for the Crown Office said it is working on the case and trying to find a timescale for the FAI this year.
Following the inspection at West Bell Street, Chief Superintendent Garry McEwan, said: "I welcome the HMICS report and the acknowledgement that we've undertaken a significant programme of work following the initial inspection of custody facilities in Tayside. The care and welfare of people in police custody is a top priority for Police Scotland and the report recognises many of the improvements made."
Mark would do a favour for anyone
Mark's family called for justice in the immediate aftermath of his death almost two years ago.
He was stopped by police on March 4 2016 as he rode his motorbike "erratically" near the Swannie Ponds.
The 29-year-old passed a breathalyser test, but was put in a holding cell at Tayside divisional headquarters in West Bell Street.
Hours later, Mark was found dead in his cell.
Mary claimed she was told officers had to hold Mark up as he was led to the charge bar, prompting her to ask why he had not been placed under observation.
She also paid tribute to her son's helpful nature, saying Mark — who was an only child — would "help anyone".
Mary said at the time: "He was really well known around here.
"He spoke to everyone and would do anyone a favour.
"My mum's really upset — she and Mark were like soulmates."
Mark's aunt, Jennifer Hughes, added: "He was a bit of a nuisance, but he had a good heart and would do anything for anyone.
"We don't know what happened to him. They checked on him at 12pm and he was found dead an hour later.
"It's a massive shock and it has not really sunk in yet.
"It is just such a shame and he will be missed."
In July 2016, Mary launched a petition titled "Justice for Mark Hutton", which gathered hundreds of signatures.
The death was investigated by the Police Investigations and Review Commissioner (PIRC).
The PIRC report was then passed to the Crown Office, which is now working on a timescale for a fatal accident inquiry to be held.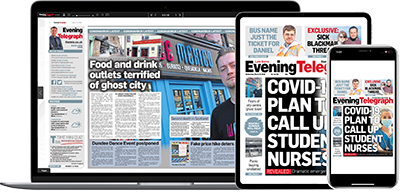 Help support quality local journalism … become a digital subscriber to the Evening Telegraph
Subscribe