Part of a city centre was the subject of intense police activity yesterday afternoon.
Just after 2pm a number of police officers descended on the busy Scott Street car park in Perth.
Witnesses reported seeing two police vans and up to 10 officers present.
It is understood that cops recovered heroin valued at £80.
One onlooker said: "I was on my lunch when, walking along Scott Street, I saw one police car parked up.
"When I looked up the entrance to the car park there was a lot of police activity.
"There were a couple of cop vans and close to 10 officers present.
"Some of the officers had on blue rubber gloves.
"One of the police cars had been parked as if to stop other cars exiting the car park while they dealt with whatever was going on
"I think the incident had been going on for a while as there were a number of people watching.
"It is certainly unusual to see that level of police activity in Perth on a Monday afternoon."
A police spokeswoman said: "Police Scotland can confirm that a 25 year old man has been charged with drugs offences after a vehicle was stopped in Scott Street, Perth yesterday.
"He is expected to appear at Perth Sheriff Court today."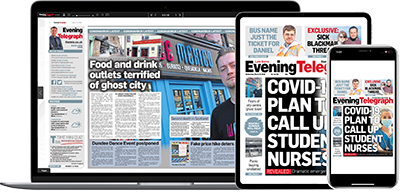 Help support quality local journalism … become a digital subscriber to the Evening Telegraph
For as little as £5.99 a month you can access all of our content, including Premium articles.
Subscribe