Dundee has two of the most-used car charging points in Scotland.
Figures released by the council through an open data initiative revealed the varying usage of each electric charging point in the city.
In total, 31,112 sessions took place since the beginning of 2017. The most-used point is at the council's public works department on Clepington Road, which was used 5,958 times since its installation. It is thought to be the most-used charging point in Scotland.
The two least-used points in the city are situated in Ardler Complex and Mitchell Street. They were utilised 42 and 43 times, respectively.
Open data is the concept that some information should be freely available for transparency purposes.
City development convener Lynne Short has hailed electric car usage in Dundee, saying it has one of the most "extensive" infrastructures in the UK.
The SNP councillor said: "These fascinating figures paint a positive picture of electric vehicle use in our city when compared with many other major populations, not just in Scotland, but across the whole of the UK.
"We have one of the most extensive charging infrastructures in Britain, with one of the rapid chargers officially the most-used in Scotland. It's also worth noting that the second most-used point in Scotland is also in Dundee."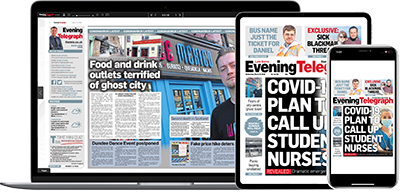 Help support quality local journalism … become a digital subscriber to the Evening Telegraph
Subscribe