Dundee residents were left scratching their heads after reports of a twister above the skies of Kirkton.
Footage from Saturday evening sent to the Tele appears to show a spout rising up to the sky.
But the Met Office has cast doubt on claims of a twister – although the forecaster said they can occur anywhere.
A spokesman said twisters can occur especially in summer amid stormy weather when the atmosphere is unstable.
He added: "After viewing still images it appears to be simply a contrail or some cirrus (high cloud) across the sky."
In 2013 the Tele reported on a tornado above Lochee.
The apparent tornado broke out of storm clouds above Tullideph Road, almost connecting with the nearby Whorterbank tower blocks.
Forecaster Stuart Brooks said at the time it was the first tornado he had heard of in Dundee.
He said: "Dundee is not a hotspot – it's certainly not the tornado alley of Scotland.
"This would be the first one I've heard of in the city.
"Twisters are quite rare but in the summer we do expect to get reports of them."
Tornadoes are created when the air remains heated and accelerates up into the clouds causing erratic air movements in the sky.
Mr Brooks said the effect was similar to water spinning down a plug hole, but upside down and in the air.
He said: "When air heats up it rises, like in a hot air balloon.
"When the atmosphere is stable, the air will get cool and stop rising, but in the summer, when the atmosphere is unstable, the warm air keeps going and accelerates.
"That's how shower clouds form. The acceleration up amplifies the spin in the air which can lead to a 'funnel cloud' developing.
"When it extends all the way down to the ground it becomes a tornado.
"Funnel clouds and tornadoes can happen anywhere, even in Dundee, though coastal areas are slightly more favoured because of the variation in air movements over the sea."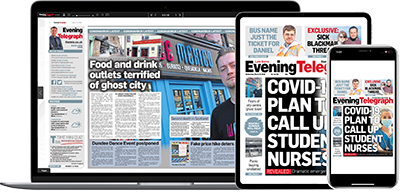 Help support quality local journalism … become a digital subscriber to the Evening Telegraph
Subscribe