A campaign to help save the concierge services at Dundee multis has received the backing of the Trades Union Council (TUC).
Dundee City Council is proposing to replace the service with centralised "rapid response" teams which rely on remote CCTV to monitor safety and spot trouble.
But campaigners from Lochee's Save our High Street Group, Phoenix Residents Group in Whorterbank and the Dundee Pensioners Forum fear the scheme would struggle to cope in an emergency, and leave multi residents feeling unsafe.
Now the TUC has backed the campaigners calls for a rethink.
Mike Arnott, secretary for the TUC, said: "The tenants in the multis find having the concierge there very helpful. We think that this is retrograde as far as the health and safety of tenants.
Speaking about the campaign he said: "We are supporting their strategy."
Jayne Kelly from Save Our High Street Lochee said: "We are absolutely over the moon that we have got the support of the TUC, that is a lot of weight behind our campaign and it shows that it is not just an emotive issue.
"There is no CCTV service in the world that can replace that human touch. People feel safe with the man sitting at the bottom of the multi."
Hilltown multi resident Barry Lamont said the problems would only get worse if the concierge service was stopped.
He said: "It's going to get worse with people kicking the door and buzzing to get in.
"It's handy that the concierge workers are there now because they can cancel the buzzer, but they are not going to be able to do that when they are away.
"The police are never going to be away from here as well. It's just going to get worse."
A Dundee City Council spokeswoman said: "The consultation process is currently under way. Anyone who wants to take part should contact the council directly."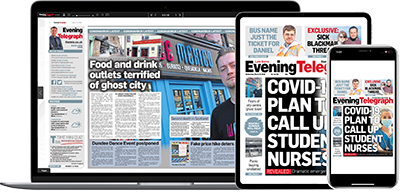 Help support quality local journalism … become a digital subscriber to the Evening Telegraph
Subscribe