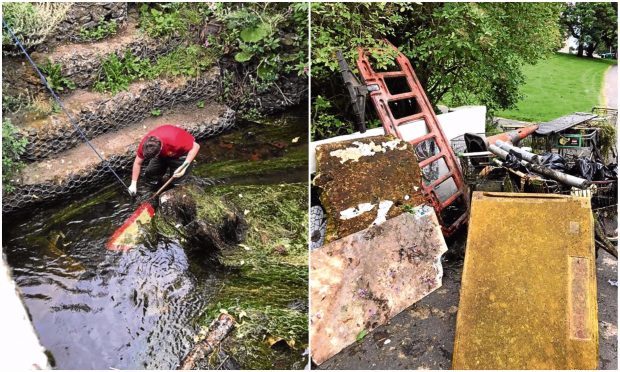 Supermarket trolleys, a tricycle and a mattress were among a host of flytipped items pulled from a Dundee burn.
Volunteers from conservation group Dighty Connect, with the help of youngsters from Street League Dundee, worked to retrieve dumped waste from the Dighty Burn.
Items recovered from the water included a number of trolleys, road signs, bags of rubbish, bicycles and even a mattress.
In a post online, Dighty Connect said the work to retrieve the rubbish was a "great team effort".
They said: "We had some help from the guys at Street League Dundee as part of their community event.
"Their hard work saw a total of four trolleys, one child's tricycle, one bike, multiple road signs, one mattress, one barrier, two bags of litter, some insulation, part of a clothes horse, some boards, plastic bags and a traffic cone all pulled from the Dighty.
"Thanks guys for the hard work. Great team effort."
Street League Dundee helps out-of-work people aged between 16-24 to get into jobs by teaching them life and employment skills.
The charitable group, which launched in Dundee in January, links mentoring, qualifications and work experience with regular sports sessions to keep those on the 10-week course fit.
Jordan Russell, operations manager at Street League Dundee, said those who took part found it a "rewarding" experience.
He added: "This is the first community event we've done with Dighty Connect.
"It is something we'll be doing again.
"We only started up in Dundee in January but the guys really enjoyed it.
"Although they were a bit tentative at first about getting in the water and being cold and wet, they really got into it by the end.
"They really enjoyed it and said it felt quite rewarding.
"It is an important thing to do as well — and it was great to have two local charities working side by side."
The efforts of both groups were praised by East End councillor Will Dawson, who described their work as "fantastic".
He added: "Dumping has been an ongoing problem for a while — even before Dighty Connect.
"It is a shame that they have to do this but commendable that they do.
"I live near the burn myself and see the fish swimming up it quite happily but I am left wondering what impact the detritus left there has on wildlife.
"It's a fabulous thing that the volunteers at Street League have done and it's something that will look great on their CVs in future as well."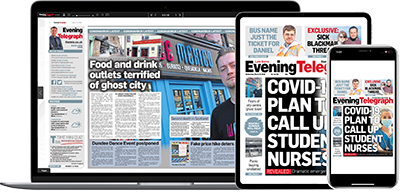 Help support quality local journalism … become a digital subscriber to the Evening Telegraph
Subscribe