Tributes have been paid to a "respected" teacher who has died after a battle with cancer.
Gordon Thorburn, a former teacher of chemistry at Perth High School, died at Cornhill Macmillan Centre in Perth, aged 65.
His daughter Karen led the tributes to her father, who had taught at the school for 36 years until he retired in 2012.
Gordon was diagnosed with primary central nervous system lymphoma, a cancerous brain tumour, in April last year.
Karen said her father fought the condition with "great courage" and a "witty sense of humour" as the illness affected his speech and mobility.
Karen, 32, said: "Anyone who knows me will know what a wonderful dad and special person he was.
"My dad was a gifted, popular and well-respected teacher who will be remembered fondly by his former colleagues and the thousands of pupils he taught throughout his long career.
"We're immensely proud of his legacy he has left behind.
"We have read all the lovely comments on Facebook that show how highly regarded he was by his pupils."
Gordon, originally from Edinburgh, accepted the role of chemistry teacher at Perth High School in 1976.
During his time at the school, he won the Teacher of the Year award – voted for by the pupils – on several occasions.
His long and illustrious teaching career was given further recognition when he received the national Champion Award from the Scottish Qualifications Authority in 2010.
The award recognises teachers who succeed in supporting their pupils to reach their full potential.
Gordon died peacefully with Karen, his wife Janice and his son Ross at his bedside. He donated his body to medical science.
Karen added: "I'm very proud of my dad for having donated his body to science.
"He continues to make a difference to others and will help to advance research into primary central nervous system lymphoma.
"I would like to thank all the staff at ward 34 at Ninewells, Perth Royal Infirmary and Cornhill for their loving care and support."
A memorial service for Gordon will be held at Huntingtower Hotel, Perth, at noon on July 24.
Donations will be collected for Cornhill Macmillan Centre.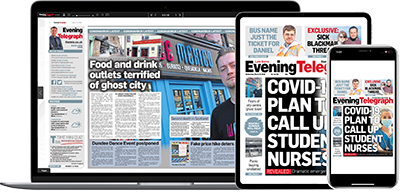 Help support quality local journalism … become a digital subscriber to the Evening Telegraph
Subscribe