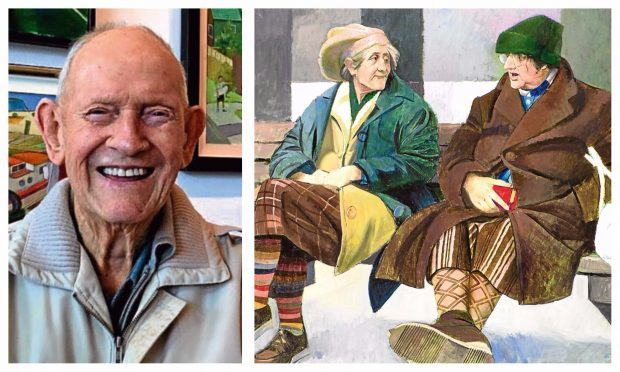 Tributes have been paid to a former art lecturer at Dundee's Duncan of Jordanstone College.
Ronald Walter Stenberg, who taught at the school from 1960 to 1984, has died at the age of 98 in New Zealand.
Ron was born in 1919 in Auckland and forged a career out of painting, drawing and life illustrations.
The dad-of-three moved to Dundee in the 1950s to reconnect with his mum's side of the family, before returning Down Under after his wife Dorrie died in 1983.
His most popular painting, Two Auld Wifies, Dundee, was painted in 1982 and shows two people sitting in City Square having a gossip.
Ron described his time in Dundee as "the best days of his life".
He was offered a job at the college and helped to set up and run the illustration and printmaking department.
A Dundee University spokesman said: "There is no doubt Ron was highly regarded as a hugely talented artist and dedicated tutor and many of his students remained in contact with him up until his death."
During his working life he was more well known as an illustrator and only latterly for his painting which was almost a hobby at the time.
His first solo exhibition was at DoJ, the year he retired.
The university spokesman added: "Ron was a military artist with the 1st Battalion of The Black Watch in 1968. He was commissioned to record the uniforms and weapons of the battalion during its last days in Germany. Much of this excellent work can be seen at Balhousie Castle in Perth."
Ron's son Lars, speaking from New Zealand, said: "He had a natural talent for art from an early age.
"In 1931 at the age of 12, he was admitted to Elam School of art in Auckland."
Lars, 54, also an artist, was born in Dundee, and said his dad, being from the wartime generation, was "the provider" for the family.
He added: "He worked four days a week at the college plus he was a professional illustrator for the other days.
"He loved drawing. He was fond of boats, both drawing them and sailing in them, and we spent many happy summers in Norway and Sweden messing about in boats.
"I think having dad's studio in the house when I was growing up was certainly an influence."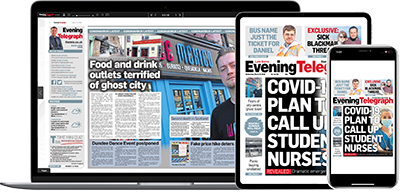 Help support quality local journalism … become a digital subscriber to the Evening Telegraph
Subscribe