Tributes have been paid to one of Dundee's "great entertainers" who has died suddenly following an illness.
Marc "Meatloaf" Kingston was a well-known performer and DJ who hosted nights and events at a number of pubs and clubs in the city.
The well-loved singer had been living with cancer.
The Peterborough-born man fell in love with his adoptive home after moving to the City of Discovery almost 30 years ago.
Marc, 56, had performed in karaoke and singing competitions, including Tay's Got Talent under his stage name of Marc Meatloaf.
He would regularly wear outfits inspired by his favourite American singer, adding "something extra" for those who watched him entertain.
Publicans, musicians and business owners have led the tributes following his sudden passing.
Tay's Got Talent winner Gordon Hennessy said: "I met him during Tay's Got Talent and he was so supportive of me and helped me through it with advice.
"I ended up winning and afterwards he kept in touch and was my agent as well as a really good friend."
His friend Grant Leslie said: "Marc was a really good singer.
"When he became ill he started doing more DJ work as he didn't want to stop playing music.
"He would help me out in any way possible and always believed in me.
"I'm gutted I won't see him again."
Dundee gin creator and venue owner Peter Menzies echoed the sentiments about the "consummate entertainer".
He said: "I was terribly sorry to hear of Marc's passing.
"He was one of Dundee's great entertainers – a consummate entertainer who would help any of the local pubs, venues and clubs who needed his services.
"He went out of his way to help out if a DJ pulled out at the last minute on a booking.
"Everyone I spoke to never had a bad word to say about him."
His family – who are based in Peterborough – said they were shocked by his sudden passing.
They added that he had always been a keen musician after forming his first band as a teenager called T Carbyde.
Stephen Tosh, former landlord of the Bowbridge Bar, said Marc always went above and beyond despite battling severe health problems.
He added: "Marc was one in a million."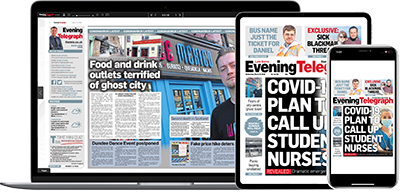 Help support quality local journalism … become a digital subscriber to the Evening Telegraph
Subscribe