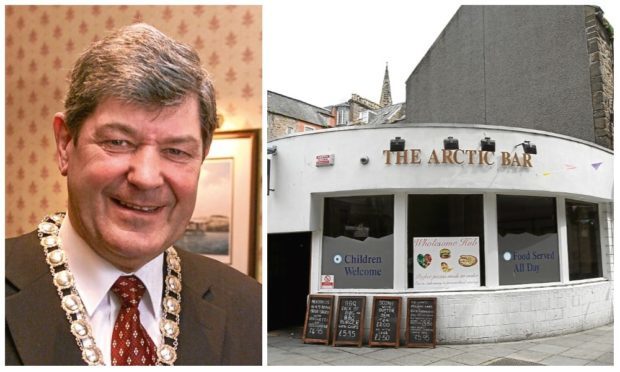 A beloved pub boss has been hailed as a "perfect gentleman" following his death.
Gordon Bruce spent decades pulling pints in the Arctic Bar and several other public houses in Dundee as well as heading up the city's licensed trade association.
The grandad died last week after a long battle with Alzheimer's disease. He was 72.
His wife Marslie paid tribute to the man who spent almost 50 years by her side.
Speaking to the Tele, she said: "Everybody in Dundee knew Gordon.
"Even when we would go to Majorca, Tenerife or Cyprus on holiday we would bump into people that he knew.
"I met him in 1969 and on our first date he asked me to marry him. Sure enough, six weeks later he got his suit from John Collier and we were married.
"It's just a shame we didn't get to see our golden wedding."
Born in Letham, Gordon moved to Dundee in his teens and was educated at Grove Academy.
He and Marslie moved to the Douglas area where they raised son Raymond and daughter Kirstyn.
Gordon spent his whole career in the licensed trade, working his way up from lorry driver to head of the trade association.
But Marslie says her husband's favourite times were spent serving friends and locals in the Arctic Bar.
"He absolutely loved running the pubs and meeting so many people," she added.
"He spent about 20 years working for Tennent's brewers before he got a job with Guinness in London but he hated it. He hated spending time away from us.
"We decided to take over the Arctic Bar and we spent 22 years in there. He was in his element meeting people.
"He didn't take any nonsense but he was always a perfect gentleman with anyone who came in.
"A lot of women used to say that they were frightened to go out to the pubs on their own but when they came to the Arctic they felt safe with Gordon there.
"He was a big strong man and his party piece used to be that he could lift a full keg of beer over his head.
"He was a great singer too and he always used to get the karaoke started.
"I could count on one hand any problems we had in 20-odd years."
Gordon also had a stake in the Occidental Bar in Broughty Ferry and Thomsons Bar in Bell Street.
In the 1980s, Gordon found himself on TV screens as a guest on the BBC's That's Life — thanks to his talking poodle Theo.
Marslie said: "I had taught Theo to speak. He managed to say 'Raymond', 'hello mum' and 'I want one' while standing on his hind legs.
"Gordon didn't believe it at first but word was beginning to spread and we got invited on That's Life. I didn't feel comfortable going on but Gordon went along with Theo.
"We used to do a lot of charity events where he brought Theo and he would talk."
Gordon raised thousands for the Royal Hospital for Sick Children in Edinburgh after a family member was diagnosed with neuroblastoma.
A keen footballer, Gordon played for Gillburn Rangers — and was even offered a contract at Rangers FC. But his mum refused to let him sign a youth contract for the Glasgow giants, instead telling him to get a "proper job".
Gordon had to give up the Arctic Bar in 2006 after a blood clot spread from his leg to his brain.
For the last few years of his life, Gordon resided at the Pitkerro Care Home.
Marslie said: "He really will be sadly missed. He was a man's man and I really don't know anyone who didn't like him.
"I'll always love him."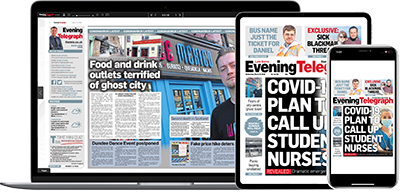 Help support quality local journalism … become a digital subscriber to the Evening Telegraph
Subscribe