A group of Travellers is set to be served their second court order in two weeks for illegally camping in city car parks.
The group appeared at the far corner of the Camperdown Leisure Park car park at the start of the week, after being given their marching orders from a retail park nearby.
Now Vine Property Management, which manages and maintains most of the site, has said it is preparing to serve the Travellers with a legal notice ordering them to leave.
Senior property manager Steven Rodger told the Tele: "We're aware of the situation and are preparing to take action.
"The Traveller liaison officer (for Dundee) is aware as well.
"The hope is that they are away in a couple of days – but to be sure we are taking the necessary action to get them to move on. We have a court meeting next week so we should have the order in place then."
The convoy, made up of two motorhomes and three caravans, first appeared at the Kingsway West Retail Park last week outside the former Toys 'R' Us store.
The caravans were also parked across disabled parking spaces, and the campers had set up fixtures such as barbecues on site.
Commercial property company GVA, which manages the retail park on behalf of fund management firm ARES, quickly obtained a court order and evicted the group.
However, the cluster of caravans appeared at Camperdown almost immediately after leaving the Kingsway site just a mile down the road.
The Travellers' arrival at the site comes just weeks before the WUKF World Karate Championships are due to be held at the Dundee Ice Arena, also based at Camperdown Leisure Park but managed seperately.
Police Scotland and Dundee City Council have said they are aware of the group's movements. However, laws on evicting Travellers from privately owned land mean police are powerless to act unless asked to do so by the land owner.
Councils must also obtain court orders before evicting Travellers.
The council operates a dedicated campsite for Travellers at Balmuir Wood, Tealing, with on-site electricity and washroom facilities.
But the six-mile distance from the city leads some to set up closer to the centre.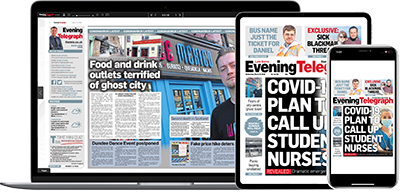 Help support quality local journalism … become a digital subscriber to the Evening Telegraph
For as little as £5.99 a month you can access all of our content, including Premium articles.
Subscribe