Part of a busy Stobswell street is to close while the local authority carries out repair work.
Dundee City Council has revealed that Dura Street, between Brown Constable and Erskine streets, will be closed for five days from Monday October 29.
This is in order to carry out carriageway resurfacing work.
Businesses and motorists could face disruption while the work is carried out.
Shaun Gray, who owns Dura Street Motors, fears he'll miss out on passing trade during the closure.
He said: "I have heard absolutely nothing about this.
"It's really disappointing that nobody has been in touch with me to say that it was happening.
"I've had the council up three times in the last month since I took over the garage in August, but nobody has said anything about it.
"I definitely think it's going to cause us some disruption and will lose us some passing trade.
"We need to have access – that's crucial."
Colin Clement, from the Stobswell Forum, is hopeful that the impact will be minimal
He said: "I'm sure the work is essential.
"You can't really win with these ones because you'll get people complaining about the state of the roads – and then they'll complain about it when the work is actually carried out.
"No doubt there will be some disruption, but the only thing we can ask is that on the roads people make allowances so that access to people's homes and businesses is as easy as possible.
"There's always work going on around Stobswell but I think the communication could be a bit better."
Mr Clement added: "A lot of people might not know what exactly is going on around about them or even know what is happening.
"It's always quite nice to be aware of what is actually being done.
"Often you just don't know if it's a gas issue or whether the council is just fixing a part of the road.
"I would say that as much information as possible would be welcome while this work is going on."
Several projects have caused traffic disruption in Stobswell over the past 12 months.
Temporary traffic lights for gas works caused headaches for drivers in November last year.
And in December, work on footpaths between Dura Street and Cardean Street left traders in Albert Street counting the cost.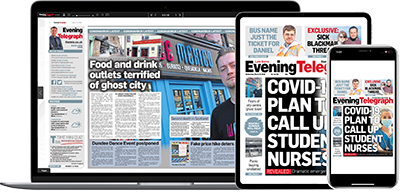 Help support quality local journalism … become a digital subscriber to the Evening Telegraph
Subscribe