Trade union bosses in Dundee have declared they will fight any threat to council jobs with "everything it takes".
Representatives of the three main unions – the GMB, Unite and Unison – vowed they will not tolerate any further reduction in staff numbers in order to save the council money.
The chief executive of Dundee City Council, David Martin, told councillors that job cuts may be the only way the local authority can make the £20 million of savings required in 2019-20.
Speaking at a meeting of the council's policy and resources committee, Mr Martin said: "Plans to reduce staff numbers would likely be part and parcel of any budget proposals put forward."
Dundee City Council expects to have to find savings of £19.4m.
Jim McFarlane, of Unison, said: "We are strongly opposed to any further job losses among council staff.
"It would be scandalous if the council got rid of more workers.
"We will be getting together with our fellow trade unions to fight this threat.
"Any further loss of jobs will affect frontline services.
"It will also have a detrimental affect on staff who are already facing stress and absence due to low staff numbers."
Helen Meldrum, of the GMB, said: "We are not prepared to accept further loss to city council jobs.
"We are planning to meet with our fellow trade unions to work out how best to fight this proposed threat.
"We will be supporting our workers 100%, and we will be asking the public of Dundee to get behind them as well.
"Many of our workers who would be affected are in the care service and they are needed to support our communities in Dundee.
"We need to support each other in this fight."
Stewart Fairweather, of Unite, said: "We have been here before and we are not prepared to tolerate any further cuts to council jobs.
"Many people are very concerned about the impact job cuts will have on frontline services.
"There are also concerns about the conditions of the workers left.
"We will definitely be prepared to take a stance against this proposal."
Mr Martin told councillors that although the council has the power to raise council tax by up to 3%, this would only add an additional income of £1.5m.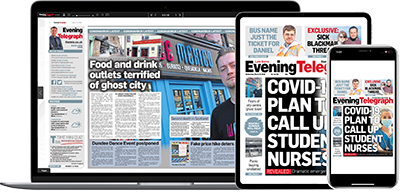 Help support quality local journalism … become a digital subscriber to the Evening Telegraph
Subscribe