Tickets for Sir Tom Jones's gig in Dundee are already on a resale site at more than twice their face value.
Fans have been warned that if they buy them they risk not getting in.
Within a minute of going on sale online at 9am on Friday, some tickets for the Welsh superstar's Slessor Gardens gig were showing as "unavailable" on Ticketmaster.
The cheapest "bronze-tier" briefs for the show on July 27 have a face value of £45.43 but are already on resale site Viagogo for more than twice that at £108 – excluding a £28 booking fee per ticket.
That is despite there being no guarantee of resold tickets being accepted at the gates.
A notice on Viagogo – hidden in a "more information" link – informs would-be buyers: "Resale of tickets is prohibited for this event."
A spokeswoman for show promoter LHG Live said: "We do not recognise or endorse the re-sale of concert tickets."
Since last week, Viagogo and other resellers have been required to tell customers about the risk of being turned away by promoters who oppose ticket touting.
The Competitions and Markets Authority watchdog has said it has "serious concerns" that Viagogo is not yet adhering to the guidelines.
The FanFair Alliance, an anti-touting campaign backed by artists such as Ed Sheeran, Adele and Biffy Clyro, said the firm "astonishingly still seems resistant to change".
Adam Webb, campaign manager with the alliance, said: "Our advice for audiences is simply to boycott Viagogo. The majority of its listings for Tom Jones's show at Slessor Gardens are connected to professional touts, who bulk-buy tickets and then hike up the price."
A Viagogo spokesman said: "All tickets on Viagogo are valid and it is perfectly legal to resell a ticket or give it to someone else if you want to.
"Viagogo is a marketplace and doesn't buy or sell tickets. Viagogo provides a platform for third party sellers to sell tickets to event goers."
"Event organisers sometimes make claims that they will deny entry to people who have purchased resold tickets.
"These types of entry restrictions are highly unfair and in our view, unenforceable and illegal.
"Therefore, as with all tickets on our platform, Viagogo customers should feel confident that they will gain entry to the event, and that is why we back every ticket with the Viagogo guarantee."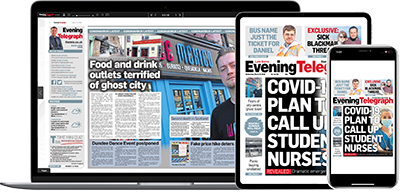 Help support quality local journalism … become a digital subscriber to the Evening Telegraph
Subscribe