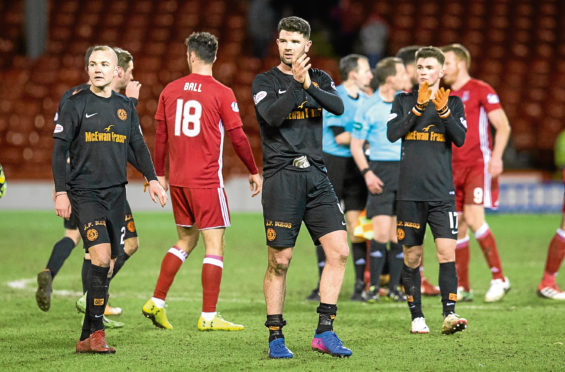 From here on in, Dundee United have to go for broke and start every game as if they were already a goal down.
That's the message manager Csaba Laszlo should be getting over to his players as they try to claw back a 14-point deficit with just 14 games remaining in the Championship promotion race.
And he almost certainly is.
Csaba knows if the Tangerines are to put any pressure on runaway leaders St Mirren, they pretty much need to win every game between now and the end of the season.
To do that, they will have to take risks, throw caution to the wind and go for goals from the first minute of each and every game.
At times, that will leave their defence exposed and it might lead to the loss of a goal or two but there are players at the other end who are capable of getting goals and there has to be a belief they can grab enough to outscore the opposition.
It is, of course, unlikely every one of the remaining fixtures will be won but, with two games in hand on the leaders, if most are that gap at the top will be closed.
Even if that's not enough to catch the Buddies — and realistically the chances of that happening already look very slim — putting together a strong run of results would at least mean United were entering the dreaded post-season play-offs with a bit of momentum behind them.
It would also see a second-place finish in the Championship secured. The experience of last term strongly suggests that could prove vital.
A year ago, Ray McKinnon's team, largely because of recording too many draws, once they saw leaders Hibs were out of sight in the battle for automatic promotion, stumbled to third place.
That meant two extra play-off games and, while they performed well in taking care of Morton and then Falkirk in the initial two ties, against Premiership Hamilton in a close final they eventually ran out of steam.
Avoiding the opening play-off round this time around would represent a boost, both physically and mentally.
Of course, first has to come that effort to put pressure on St Mirren and seeing how they cope.
Recent form does suggest such a push from Laszlo's team looks unlikely.
Just two victories and four defeats in the last seven outings is not a record that makes for optimism.
The latest defeat, of course, came in Sunday's Scottish Cup New Firm derby at Aberdeen.
Losing to such big rivals was always going to hurt but, for once in the past month or so, it was a defeat from which some hope could be taken.
In the horrific 6-1 reversal at Falkirk last month and against Morton at home more recently, when United fell behind they folded like the proverbial pack of cards.
At the weekend, even when 4-1 down early in the second half, they refused to lie down, pulled one goal back in the last half-hour and went close to getting another. On the final whistle that may have felt like scant consolation for the 941 Arabs who braved the freezing conditions in the Granite City.
As well suffering the defeat, these most loyal of fans had to endure the taunts of home supporters who clearly took great delight in highlighting United's current status as a second-tier outfit.
That must have been hard to take but they could take heart from their team showing fight.
It's that quality, as much as the ability there is still plenty of in the dressing-room at Tannadice, which will be needed in large measures over the next three months or so if the season is to be turned around.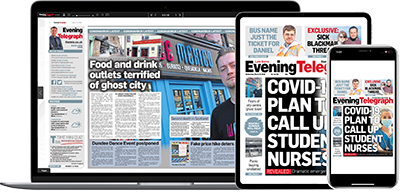 Help support quality local journalism … become a digital subscriber to the Evening Telegraph
Subscribe