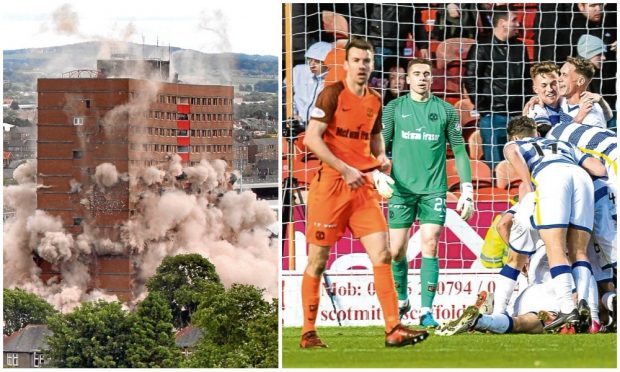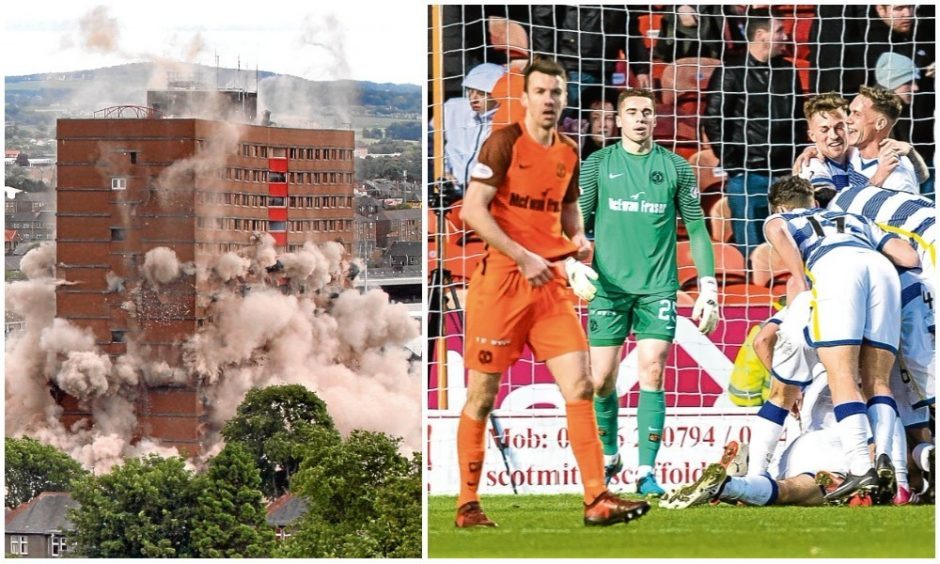 Not since the Derby Street multis at the 'Tap O' the Hill' came down five years ago has there been a collapse like this in the DD3 postcode.
Blowing up Butterburn and Bucklemaker courts caused more noise, but Dundee United's implosion in the past month has been just as spectacular.
On December 29, Csaba Laszlo's team headed for St Mirren knowing victory would see them finishing the year in first place.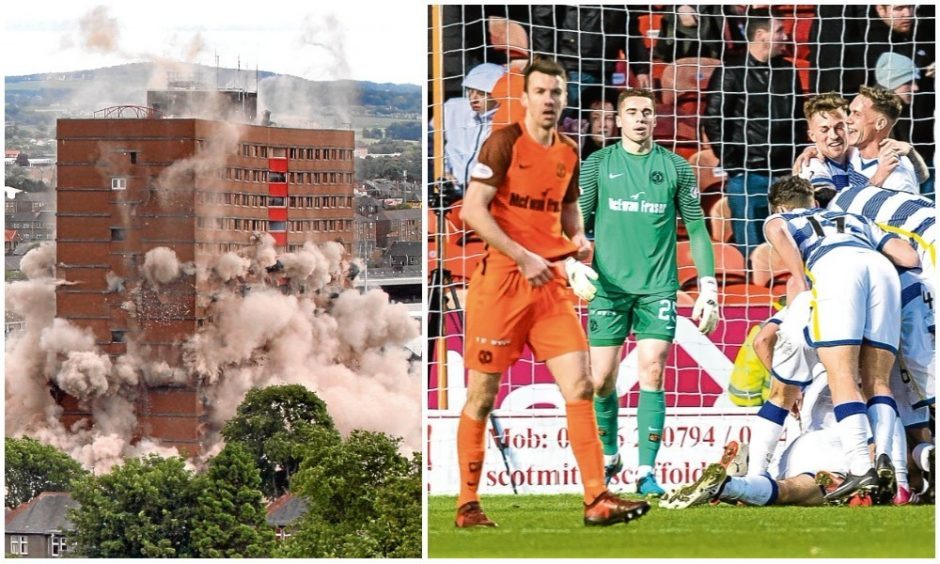 Just four-and-a-bit weeks on they trail the Buddies by 11 points and seem destined to spend the rest of the regular season cast adrift in the doldrums of the play-off places.
One of the most disastrous runs that could be imagined has seen the Tangerines suffer three massive league defeats — to the Buddies, then Falkirk and now Morton.
They did scrape a goalless draw at Dunfermline, but their only victories in this period have been against part-time opposition in the shape of winless Brechin in the league and Alloa in the Scottish Cup.
At St Mirren, United looked the better team for a long spell and, had a first-half penalty from Paul McMullan been converted, may well have gone on and won. It wasn't and, as well as slumping to a two-goal defeat, midfielder Scott Fraser was lost to long-term injury.
There followed a brief recovery with the win over Brechin but, just days later, it all went horribly wrong with a 6-1 drubbing against a Falkirk side struggling to avoid relegation.
And, if the losing margin against Morton last Saturday wasn't as severe, there's no question the 3-0 defeat was every bit as difficult for United fans to take.
With their team managing just one shot on target and being completely outplayed by a Ton side managed by old Dundee foe Jim Duffy, most were long gone by the final whistle.
Some of the few that stayed berated the players as they trudged dejectedly off the pitch. It wasn't nice to see but, after a display like that, the punters couldn't be blamed. Their suffering can have only been made more acute by the fact prior to the St Mirren loss their team was flying. The football being played in the first couple of months of Laszlo's reign had been, at times, spectacular.
Possession was being dominated and chances were being created. There was a feeling, if this form was maintained, United could steamroller the division.
Instead, just like those multis, they've come crashing down and now from the rubble of the past month we've been left trying to work out exactly why.
It's hard to say exactly but it's impossible to look at the situation without thinking the loss of Fraser and deep-lying midfielder Fraser Fyvie through serious injury has hit harder than expected.
That's not just a problem from within — others look at United without that pair and see the chances of beating them greatly improved.
After Saturday's loss, another old foe in the Morton ranks, ex-Dee Gary Harkins, was asked what the difference between that game and a comfortable United success at Cappielow in early December was.
Without hesitation he named the absence of Fraser and Fyvie.
Both have top-half-of-the- Premiership quality and "GGH" reckons you can't take that ability out of a Championship team and have a problem.
Judging by this awful January, the big man might just be right.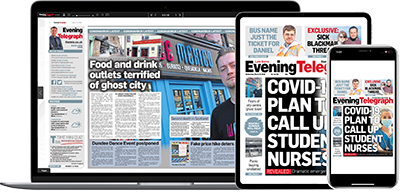 Help support quality local journalism … become a digital subscriber to the Evening Telegraph
Subscribe