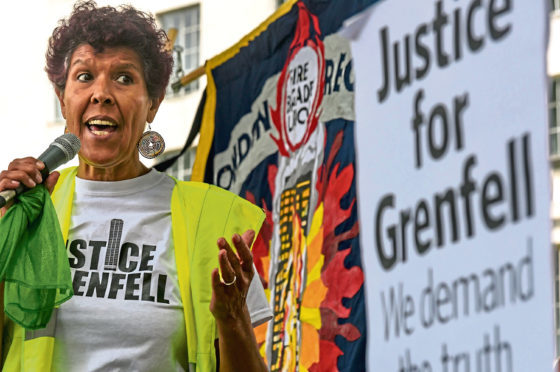 It was one of the UK's worst modern disasters, with 72 people losing their lives.
Now, 13 months on and as the inquiry into the fire in Grenfell Tower in London continues, one of the leading campaigners fighting for justice is coming to Dundee to talk about the disaster, and how to avoid a repeat of it.
Moyra Samuels, pictured, a founding member of Justice4Grenfell, said the lack of decent, safe, affordable housing that led to Grenfell was an issue country-wide – including in Dundee.
She will be talking about her campaign, as well as discussing the causes and effects of the blaze, at a public meeting in the city centre this evening.
She said the disaster not only highlighted the issues of fire safety in social housing, but also what happened to people forced out of their home when tragedy strikes.
Ahead of today's talk, Moyra said: "There is a lack of affordable housing across the country and I'm sure Dundee has its problems with that.
"That began in the 1980s with Margaret Thatcher starting the right-to-buy scheme, and then successive Labour governments never really did anything to quell that, unfortunately.
"That leads to dangerous situations like we saw with Grenfell, where people don't have what is a basic right – the right to decent, safe, affordable housing.
"That shortage has been laid bare now as much as ever. Over 50% of people who lost their homes are still not moved into a permanent home."
The Grenfell Tower fire broke out in the kitchen of a fourth-floor flat at the 23-storey tower block in West London on June 14 last year.
Moyra, 60, a school teacher, told the Tele the morning of the fire – which happened just 300 yards from her home – will never leave her mind.
"My children woke me up – and they are adults – and they were hysterical.
"At that point the building was fully ablaze – it was unbelievable. Although I never knew any of the people who died, my son went to school with a man whose father died in the fire. He had jumped from the 20th floor to his death.
"The son had carried his mother to safety from that floor.
"There is another family I know of, one family who were wiped out – six people from three generations."
Moyra will be guest speaker at a public meeting held at Committee Room 1 in City Square tomorrow, starting at 7.30pm.
She was invited to speak by the Dundee Trades Union Council, with the backing of the Fire Brigades Union and Dundee People's Assembly.
Jim Malone, Dundee coordinator of the Fire Brigades Union, said he and his colleagues previously met Moyra in London, and invited her to speak.
The unions had previously showed solidarity with the Justice4Grenfell campaign by holding a silent march and vigil in the city centre on the first anniversary of the tragedy.
He said: "I think the issues she will touch on – like poverty, housing and austerity in general – are ones which will resonate with people in Dundee.
"I think there is a dearth of affordable social housing in Dundee. You hear of four people going for every house.
"As well as that, we want to show solidarity with people campaigning. Grenfell was an austerity-driven atrocity."
The Grenfell inquiry is examining the circumstances leading up to the fire and preventing a similar tragedy occurring again. It is expected it could run until 2020.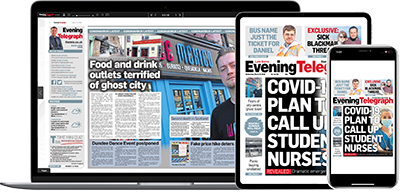 Help support quality local journalism … become a digital subscriber to the Evening Telegraph
For as little as £5.99 a month you can access all of our content, including Premium articles.
Subscribe