Efforts to make shops in Dundee more accessible for people with disabilities have been welcomed.
Purple Tuesday – the UK's accessible shopping day – takes place today.
The national initiative aims to make customer-facing businesses more aware of the opportunities and challenges disabled customers experience when shopping.
Xplore Dundee and the Overgate Shopping Centre are among the city businesses supporting the scheme.
Arthur Lynch, 71, from Lochee, a wheelchair user since 2008, said it was "encouraging" to hear about Purple Tuesday since getting around stores can prove challenging.
He said: "If the concept works it will be fantastic.
"It can be a nightmare getting in and out of shops, particularly during the Christmas period.
"Going in and out of stores behind folk is problematic."
Services which will be on offer at the Overgate will include large-print mall guides, stoma-friendly toilet facilities, refreshed accessible toilets, retailer liaison regarding accessibility and an improved hearing loop.
The centre also offers a dedicated "quiet hour" every Sunday from 11am-noon.
Bosses at the centre say the new additions will improve the Overgate's existing commitment to accessible shopping which includes a Shopmobility service, wheelchair hire, automatic doors and entrance ramps.
Centre manager Malcolm Angus said: "Overgate is pleased to be supporting this initiative which reaffirms the centre's commitment to creating a positive experience for customers with disabilities. The accessibility of Overgate is an important issue and the new range of services being introduced will continue to improve and adapt to our customers' needs."
As part of Purple Tuesday, Xplore Dundee is reminding passengers of the features it offers to make travel more accessible, including low-floor access and ramps across its fleet.
A spokeswoman said: "Accessibility is very important to us and we work hard to ensure bus travel is an option for as many people as possible, regardless of age, ability or background."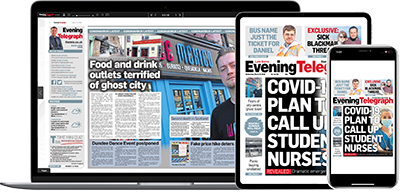 Help support quality local journalism … become a digital subscriber to the Evening Telegraph
For as little as £5.99 a month you can access all of our content, including Premium articles.
Subscribe