It's Valentine's Day and love is in the air – and now the Evening Telegraph has come up with the perfect romantic gift for our readers.
Following on from our hugely successful New Year and Christmas innovation in years gone by, the Tele will produce personalised Valentine's mastheads on special editions of today's paper.
Printed using state-of-the-art technology, every paper will carry a Happy Valentine's Day message and name.
There will be a selection of first names available but don't panic if you can't find yours – there will be plenty of other romantic messages like "marry me?", "honey bun", "soul mate" and even "ya dafty"!
The papers will be the perfect keepsake for your husband, wife, girlfriend or boyfriend on the most romantic day of the year.
In the past, readers have hunted down copies of the sought-after editions and this year will be no different – so get to the shops early to make sure you're not left disappointed.
The First Edition is in shops at 11am and there will be even more copies when our Late Extra arrives after 2pm.
Tele editor Dave Lord said: "Roses are red, violets are blue and, wow, have we got a treat for you?
"That's right, like it or loath it, you simply can't ignore Valentine's Day. Your Evening Telegraph is getting in on the act this year by creating personalised papers for that special someone in your life.
"Thanks to our brilliant digital print-head technology at our Kingsway works, bespoke copies of the Tele will be rolling off the presses tomorrow.
"Don't miss your chance to make your loved one's day by presenting them with a very special token of your esteem (OK, OK, it's not a trip to the Bahamas or even a romantic meal for two, but still).
"Personalised copies will be available in all the usual outlets, with some extra special versions available at our specially-themed roadshow at the Wellgate.
"It's all a bit of fun and we really hope it puts a smile on your face (and that of a loved one) this Valentine's Day."
Discovery Print has used its Kodak Prosper S30 Imprinting System to individualise more than a million newspaper copies.
Head of operations Guy Forrester said: "Personalisation has now been used across the DC Thomson newspaper portfolio."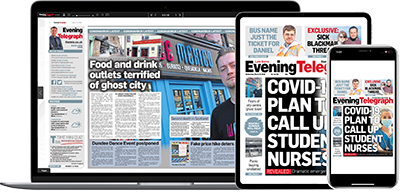 Help support quality local journalism … become a digital subscriber to the Evening Telegraph
Subscribe