Representatives from more than 40 countries will descend on Dundee this week, as the city becomes the first in the UK to host the World Union of Karate Federations (WUKF) World Championships.
While the football World Cup kicks off in Russia, all eyes from the martial arts world will be on the east coast of Scotland, and Dundee Ice Arena, from Thursday.
More than 4,000 people will arrive in Dundee, including athletes, inspectors, officials and coaches for four days of world-class martial arts.
With Dundee now widely tipped as an upcoming tourist destination, the championships offer a chance for the city to show what all the fuss is about.
Caroline Warburton, VisitScotland's regional leadership director for Dundee, said she hoped the city's recent inclusion as one of Lonely Planet's must-see destinations would encourage karate spectators and competitors to explore beyond the competition setting.
"Sporting events such as these championships present a great opportunity to engage with visitors and show off what there is to see and do outside of the sporting arena," she said.
"I hope spectators and participants alike will take the time to explore Dundee's wonderful cultural scene and see for themselves why it has been named by Lonely Planet as one of the must-visit destinations in Europe this year."
Dundee City Council leader John Alexander said: "With more than 40 countries represented, this will have a notable and positive impact on the local economy. I'm sure that full hotels, restaurants and attractions will be just some of the benefits derived from hosting the WUKF World Championships.
"It shows what a changed city Dundee is and how our reputation and our ability to punch above our weight can deliver results, and provides an opportunity to promote our values and offerings on an international platform."
Kanzen Karate, based at Manhattan Works, put in the bid to host the WUKF World Championships in 2016.
Roy O'Kane, Kanzen Karate president, said: "We've been working with partners across the city — Dundee City Council, Leisure and Culture, Dundee and Angus Convention Bureau — to make it a success and we can't believe it's here.
"The response across the city has been immense. There is a lot of goodwill and support for the event.
"Dundee Ice Arena is going to be rocking for four days, so much so we've had to add a 100-metre temporary marquee to the front.
"Some of the federations who bid for these events have 60,000 members, whereas we're 600. It's been a massive mountain, but the guys have been totally awesome. We wouldn't be here without the hard-working members and the goodwill across the city.
"This is the premier event for the WUKF. It's been held in Ireland, Poland and next year in Slovakia, but the fact that Dundee can be added to that list is pretty awesome."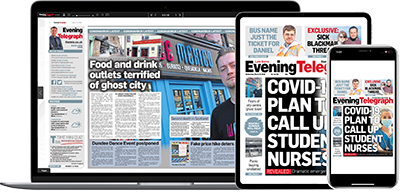 Help support quality local journalism … become a digital subscriber to the Evening Telegraph
For as little as £5.99 a month you can access all of our content, including Premium articles.
Subscribe