A pub manager has said it will be business as usual – despite thieves smashing their way in and ransacking the bar over the weekend.
The culprits battered down a back door to break into The Pillars on Crichton Street and stole cash as well as wrecking fruit machines and ripping a juke box off the wall.
But manager John Justice said that staff had rallied round and they managed to open the doors yesterday afternoon.
John, 62, said: "I discovered the break-in at 10.30am on Sunday when I came in to open up.
"It was quite a shock and there was a lot of damage.
"But the pub won't close and our staff rallied round while a friend of mine came in to help clean up.
"I have good staff and everyone just got stuck in and we were open for 3pm.
"We didn't have a juke box obviously so we put 'Magic' on the TV and that kept the punters happy."
He added: "The thieves apparently used sledgehammers and crowbars to force open the back door to the old kitchen.
"We reckon they made off with £700 in change, including £5 notes and coins from the fruit machines.
"They also got away with an office safe but there was nothing in that.
"They ripped the juke box off the wall but that is free to use and had no money in it and they also ripped all the CCTV cameras off the walls.
"But the police are hoping that there is still footage that they can see."
Police believe the break-in took place between Saturday night and yesterday morning, with the crooks breaking in through a back door.
They launched a wrecking spree which cops described later as causing a "significant amount of damage".
A spokesman said: "Police Scotland is investigating a break-in to a bar on Crichton Street overnight from Saturday into Sunday.
"A number of items were damaged, with quantities of cash stolen and significant damage caused.
"Anyone with information should call 101 or call Crimestoppers anonymously on 0800 555111. Our reference is CR/4954/19."
Meanwhile, a man was arrested in connection with an alleged assault on adjacent Whitehall Crescent at around 8.45pm on Saturday.
One man received minor injuries.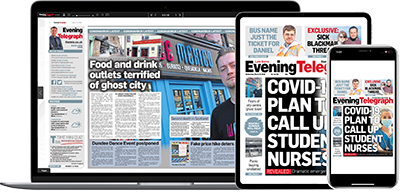 Help support quality local journalism … become a digital subscriber to the Evening Telegraph
Subscribe