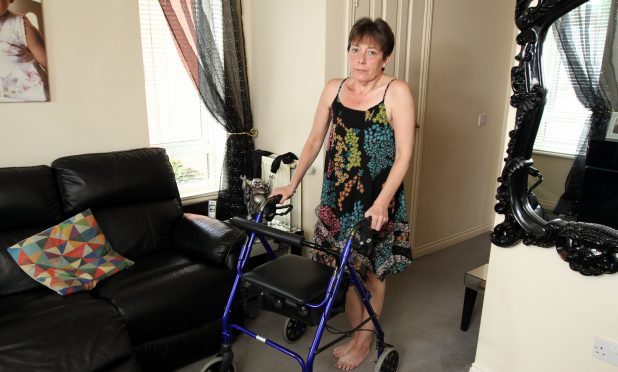 A Dundee grandmother with a severe breathing condition feels scared to live in her own home after a thief sneaked in and stole her purse — then tried to break into her house a week later.
Jackie Gordon, 53, is practically housebound with chronic obstructive pulmonary disease (COPD) and requires a walking frame and a wheelchair to get around.
The former barmaid kept the front door of her flat open at all times so the emergency services wouldn't have to force entry if she fell ill and required treatment but her flat block was protected by a security system which required a fob.
However, a thief managed to gain entry to the block in Birkdale Place and open the door to her flat.
The culprit stole her purse which contained precious family photographs, £80 cash, her disabled bus pass and credit cards.
She said: "It must have been between 4am and 5.30am on the Sunday. I was looking after my six-year-old granddaughter that night. I was tossing and turning in my bed, so I got up and was watching TV.
"About 3.10am, I saw a guy walking up and down the street but I thought nothing of it. I thought he was just lost. I fell asleep about 3.50am."
When Jackie got up, she said she noticed her front door was ajar, adding: "I had a gut feeling something wasn't right and I asked my granddaughter if she had opened the front door and she said 'No'."
Jackie soon noticed her purse had gone and the keys inside, which also had the fob for the main entry system.
As well as the photographs and cash stolen, her bank account showed the culprit had spent £20 online with William Hill.
Sanctuary Housing changed the locks on her door but the thief still had the fob for the main entry.
Since the theft, Jackie's son Darren has stayed with her but the man appeared to try to enter the flat again the following Sunday morning.
The whole saga has left Jackie feeling vulnerable, with the gran adding: "I don't feel safe here.
"I don't want to move, as it's a lovely flat and the neighbours are great but I just can't stay here. The thief would have known I was disabled.
"He would have seen my wheelchair and walking frame — I was just an easy target."
The culprit is described as 5ft 10, in his mid-thirties and wearing a black Adidas jacket.
The purse had a distinct pattern with blue, orange and yellow squares on it.
Anyone with information on the first incident on June 11, or Sunday's attempted break-in, should contact Police Scotland on 101.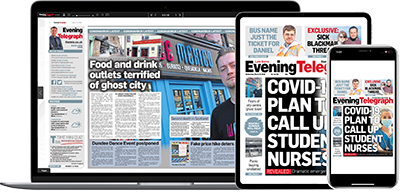 Help support quality local journalism … become a digital subscriber to the Evening Telegraph
Subscribe