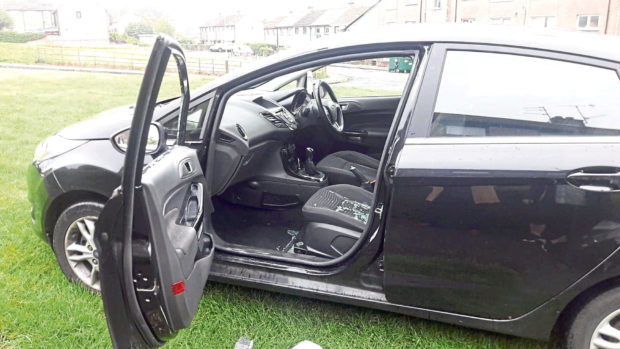 A man has admitted breaking into seven cars in Charleston and Menzieshill.
David Stewart, 47, of Brownhill Street, was originally charged with 10 offences, after a series of break-ins to residents' cars.
He appeared from custody and admitted seven of the charges, while his pleas of not guilty to three others were accepted by the Crown.
He was remanded in custody by Sheriff Lorna Drummond pending reports.
Car owners on Buttars Terrace and Brownhill Street woke up earlier this week to find their vehicles had been broken into.
A resident on Brownhill Street spoke to the Tele after forensic officers had taken prints from his vehicle.
He said: "We've had the odd wing mirror kicked in the past but we've never had any bother like this."
Stewart admitted that between Monday and Tuesday, both days inclusive, in the car park near Buttars Loan, he forced open a lockfast car and stole a sat-nav and CDs.
He further admitted on the same dates at Craigmount Road he forced open a lockfast car and stole a keyring and a pair of trainers.
Stewart also admitted that on Tuesday, at Ravenscraig Place, he forced open a lockfast car and stole a set of earphones.
He also pleaded guilty to forcing open a lockfast car with intent to steal at Buttars Terrace, also on Tuesday.
Stewart admitted that on the same date, at Dee Gardens, he broke into two cars, stealing cigarette lighters, a set of sunglasses, a can of deodorant and a Bluetooth speaker from one, and with intent to steal from the second.
He also broke into another car on the same date on Brownhill Street, with intent to steal.
Sheriff Drummond deferred sentence until September 10, calling for a criminal justice social work report and a restriction of liberty order assessment.