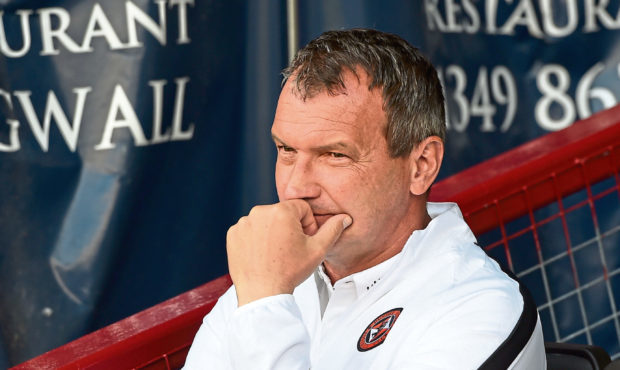 Deep inside the bowels of Tannadice was where Csaba Laszlo carried out one of his last acts as Dundee United manager, speaking to the press after his team hit self destruct in losing 5-1 to Ross County on Saturday.
Csaba was quizzed on where it all went wrong for him, not just on the day, but over the course of his near year-long reign as the sense he was a dead man walking filled the air.
He was down and seemed defeated when laying out his defence and it was clear it was going to be the last time he spoke as the manager of Dundee United Football Club.
Asked if he had considered resigning, he said: "I don't think resigning is an option but it was a terrible result.
"The team know that and we have to take the responsibility for it.
"It wasn't just one or two people – it's the full team who have to take the responsibility.
"I don't think we are so bad going by results but we lost five goals at home.
"Especially being so positive after the Falkirk game, we were 100% going into this difficult run.
"We knew it wasn't going to be easy but we showed real confidence and the injured players have slowly been coming back.
"We wanted to avoid a result like Saturday – it's not what we wished for."
Csaba did confirm that, as ever, he would speak with chairman Mike Martin which ultimately led to him being sacked on Sunday afternoon.
The Hungarian also conceded he and the players had let the fans down with the display and recent struggles.
He added: "I believe in my players and they feel the same after losing the game.
"They don't want to push the responsibility away – it's not that easy. Saturday there was no evidence that we're a good team.
"The players let themselves down, too, not just me. We brought these players in to try to get promotion back to the Premiership.
"Everybody is responsible after this defeat. It's not easy to find clear words for it.
"I don't expect the fans to be happy after this defeat."
And Csaba's sense that things were coming to a close were evident in the following comment.
He admitted: "This is the worst I've felt as the manager of Dundee United, especially at home.
"We didn't have to concede those goals but I don't want to point fingers at anybody. Everybody knows it was a bad performance."