She had a part in cult horror classic The Wicker Man and starred in Scottish soap High Road – but now actress Lesley Mackie is set to do her bit to raise awareness of dementia.
She is currently in Dundee to film an NHS feature where she plays the role of a patient living with the condition.
Lesley is also one of a number of actors who are role-playing at Ninewells, taking on the part of patients, during training for doctors.
She said: "I don't do as much as I previously did but I am still fairly busy.
"Dementia is something which affects many people.
"It is an emotive subject which affects many folk. Hopefully, this role will lead to more understanding of the condition."
Lesley, now based in Perth, has appeared on stage and screen in numerous roles including winning the Olivier award for the best performance in a London West End musical.
That came in 1986 for her role as Judy Garland.
She is in good company as the award has also been won by actresses such as Virginia McKenna, Patricia Routledge, Julia MacKenzie, Barbara Dickson, Imelda Staunton, Dame Judi Dench and Martine McCutcheon.
Now her career has come back to where it all started – well, nearly.
Many actors who started their work in the 1950s have long since made their final bow, but Lesley has no thoughts of exiting stage left.
She said: "I never envisaged being in the business for this long but here I am still treading the boards.
"After an appearance in Little Little Red Riding Hood at Dundee Rep in 1957, I was back the next year in Ali Baba And The Forty Thieves. It was these early appearances that gave me a glimpse of another world, and I wanted always to be part of it."
Lesley was brought up in Tait's Lane off Hawkhill and went to Harris Academy.
"I was girls' captain there and Donald Findlay QC was the boys captain," she recalled.
"I remember a debate where I was Donald's seconder. He was excellent, so it is no surprise he's done so well in the legal profession."
After Harris, it was off to drama school in Glasgow.
Lesley added: "When I graduated in 1973, I got my first professional job in The Great Welly Boot Show at The King's in Glasgow.
"I then worked with the great Jimmy Logan, who was wonderful to me, and also at the Young Vic in London."
Since those days, Lesley has gone on to make a host of stage and screen appearances, her portrayals of Judy Garland and Edith Piaf earned rave reviews, with her role as Judy wining her that coveted Olivier award.
She also played the lead role in Shirley Valentine.
In her most famous role, she played Daisy in The Wicker Man, where her co-stars included Christopher Lee, Edward Woodward and Britt Ekland.
The cult classic was made in 1973. Lesley said: "I still have Wicker fans getting in touch and asking me to sign stuff. Who would have thought it after all those years?"
The Play For Today, Just Your Luck, penned by Peter McDougall and also starring David Hayman and Eileen McCallum, Sutherland's Law, A Sense Of Freedom, The All New Alexei Sayle Show and High Road are just some of Lesley's screen roles.
There have been many others – and there could still be more.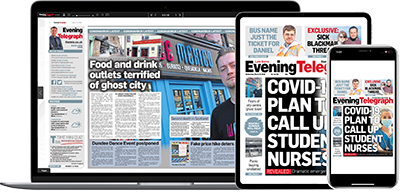 Help support quality local journalism … become a digital subscriber to the Evening Telegraph
Subscribe