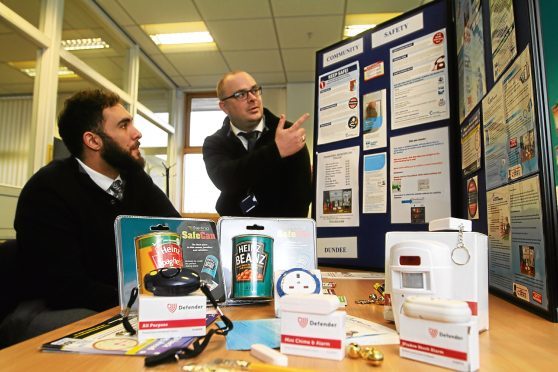 They are the small affordable gadgets and devices which can prevent people falling victim to scammers.
The Tele has teamed up with Kean2Slaters to launch the Safe as Houses campaign.
We aim to ensure city residents are as vigilant as they can be — and make sure they don't fall victim to criminals.
Today, we will explore the range of affordable devices which are on offer from Dundee City Council to help locals thwart fraudsters and thieves.
The local authority's community safety teams work within their areas to protect people from low-level crime and antisocial behaviour.
Garyth Jardine, a community safety manager, said that the council stocks the items and distributes them at cost price to ensure locals feel safe in their homes.
He said: "We have window shock alarms. If anyone tampers with a window then vibrations affect it and it sets off an alarm which immediately alerts people there is something untoward happening.
"The next step would be making that 999 call or a 101 call into the police.
"We have shed alarms, too.
"It's easier for someone to target a shed because they could contain high value items like lawn mowers and hedge trimmers or bikes and these kind of things.
"They are often situated away from the home, so you might not be immediately aware that something was being tampered with. The shed alarm emits a high pitched noise and alerts people to it — then it's a call to the police.
"Safe cans are popular — where you can hide things like your money or other valuables in them in the cupboard.
"The thought is that if someone gets into your property and encounters lots of tins of beans or spaghetti, then they are likely to move away from that and your valuables are safe.
"We have timer switches which are really popular for putting the lights on and off, especially in the winter.
"You might have an opportunist thief going around and, if the house is in total darkness they probably will see that as an opportunity that no one is home and, at least, have a look at the property.
"If you see a light on, you think someone is in there.
"These are really popular and we have had to order a lot in to keep up with demand.
"We have personal alarms too — it's basically a personal attack alarm.
"If anything happens to you untoward, whether you are in the street or at home, it emits a very high-pitched frequency.
"It helps alleviate someone's concerns and make them feel safe — but another point is that it can alert other people to the fact you might be in trouble.
"People will come to your aid and it could stop an attacker."
Other items on offer include purse bells, purse strings and fridge magnets with information and advice.
Another item is a UV pen, which can be used to mark details on your possessions.
Garyth said that a high number of stolen items can be recovered due to being marked with the pens.
They also stock card defenders — pouches for bank cards — which can prevent fraudsters utilising contactless payments to steal money.
The Safe as Houses campaign aims to give residents the knowledge they need to ensure their home is secure.
n Have you been targeted by a bogus caller, scammer, thief or fraudster?
Contact us via email with your story at SafeasHouses@dctmedia.co.uk, or by phone at 01382 575017.
People who want to purchase items should contact the council's community safety team on 01382 436333.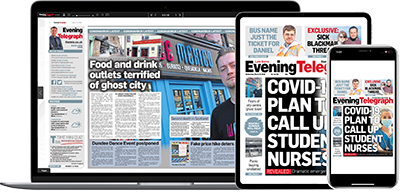 Help support quality local journalism … become a digital subscriber to the Evening Telegraph
For as little as £5.99 a month you can access all of our content, including Premium articles.
Subscribe