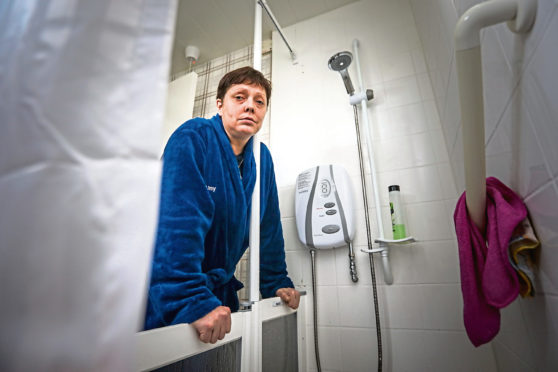 A terminally ill granny is still waiting for her shower to be fixed in an ongoing battle with Dundee City Council.
Last week, the Evening Telegraph reported how Kerry Bonella, 47, had been left with a faulty electric shower since she moved in to her new council home in July.
Since then she has been unable to wash herself in comfort as the water from the shower is lukewarm.
Yesterday, Kerry told how she had been sent a part in the mail for the shower and after a phone call to Dundee City Council, was informed a engineer from the shower company RedRing would be out to install the part.
She said: "He said that the engineer had promised he would be out by tomorrow. According to this council man I've got to sit and wait on this engineer, I can't even go out."
Kerry, from Douglas, who has stage four lung cancer as well as chronic obstructive pulmonary disease (COPD), has been left having to climb up to four flights of stairs to visit her daughters' flat in order to get a bath.
She said: "My other daughter just had to bring my grandkids round so I can go and get a bath."
Kerry said the ongoing issue has put her in a deep depression and she had been prescribed stronger anti depressants by her doctor.
She added: "It's stressing me out. I'm just getting fed up now. It's just nonsense."
A Dundee City Council spokesperson, said: "We are aware of the issue. We are working with a supplier and the tenant to deal with the matter."
Rowena McCappin from Glen Dimplex said: "I have checked internally and have been advised that the first contact we received regarding this case (as the manufacture) was on the 27th November.
"We then arranged for the parts to be sent to the site. It would seem that Dundee Council arranged their own subcontractors prior to 27/11 as we don't have any record of a call out.
"We have been trying to contact the customer to organise a call out which is scheduled for today. Hopefully this is resolved today. This is a terrible situation for this lady and we will do our best to assist."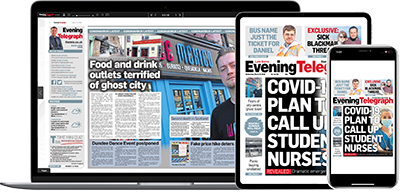 Help support quality local journalism … become a digital subscriber to the Evening Telegraph
For as little as £5.99 a month you can access all of our content, including Premium articles.
Subscribe