Linda McDonald wants answers – and she wants the law changed to ensure that what happened to her cannot happen to anyone else.
The 53-year-old was subjected to a brutal assault at the hands of killer Robbie McIntosh in Templeton Woods in August last year.
McIntosh was on day release from prison at the time.
He was serving a life sentence given to him in 2002 for stabbing dog walker Anne Nicoll to death on the Law when he was just 15.
Linda is set to meet Justice Secretary Humza Yousaf this week as she launches a campaign to get the law changed over the parole and home release of convicted murderers.
Linda said she plans to fight to get justice for herself – and for Anne – and is passionate that this can never be allowed to happen again.
She said: "McIntosh is an evil beast who should never have been in a position to be able to attack me on the day he did.
"Someone has blood on their hands and I want transparency. I want to know how the decision came about to give him home leave.
"He had been jailed for life for the killing of Anne Nicoll and to my mind, life should have meant life. He should never have been allowed out to carry out the attack on me.
"He wasn't even on a tag so the authorities couldn't monitor his whereabouts.
"I am going to shout loudly to make the authorities listen to me. I'm going to do everything I can to get the law changed.
"But I can only fight for so long.
"I'll make a lot of noise but then it's up to the authorities to take this on board.
"I'm going to do what I can but then I have to hand it over.
"This is a big part of my life just now but I won't let it be part of my life for the rest of my life.
"I survived, and as I see it I have a window of opportunity to change things, and I'm going to take that chance."
Linda recently took part in a significant case review (SCR) into the circumstances that led to McIntosh attacking her.
It is expected to be published within the next two weeks and Linda is determined that it is made public.
She said: " I want nothing left unreported and unpublished –there needs to be full transparency.
"As far as I am concerned, someone has blood on their hands and I want it all to come out in public."
In the meantime, Linda said she and her husband Matt are trying to get their lives back on track.
She has gone back to work as a medical secretary and she and Matt are gong on holidays, having weekends away and enjoying social outings and parties.
"I used to be the one in control of my family. I looked after everyone but since the attack, they have had to look after me," she said.
"Matt had to take time off work and instead of me looking after my children and grandchildren, they have been looking after me.
"I had to be fed and bathed, get my hair washed, have my meals cooked and my house cleaned.
"I've always been the one to do all these things in my house.
"That was taken away from me. But I have survived and I have to believe that something good can come out of this.
"Nobody really understands why I didn't die that day or why I am not a vegetable now. But I did survive.
"I'm getting my life back and I'm going to enjoy every minute of it.
"To fail now would be to let him win and we're not prepared to do that."
Matt said: "For me, the worst moment was seeing Linda in the woods after the attack – nothing will ever be that bad again."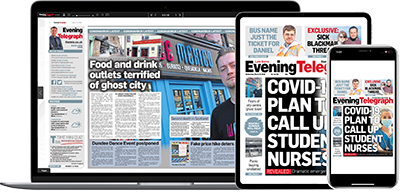 Help support quality local journalism … become a digital subscriber to the Evening Telegraph
Subscribe