Attempted murder victim Linda McDonald has described Law killer Robbie McIntosh as "pure evil".
Mrs McDonald said she had not returned to Templeton Woods since she was attacked by McIntosh while she was out walking her dog.
McIntosh, 32, was jailed for life with a minimum of 15 years in 2002 for the brutal knife murder of dog walker Anne Nicoll on Dundee Law.
Ms Nicoll suffered knife wounds to the neck, face, head, back, chest, abdomen and left arm after being attacked as she walked her Airedale terrier.
McIntosh was allowed a week's home leave in August last year as he was being prepared for release –during which time he launched a vicious, unprovoked attack on Mrs McDonald with a dumbbell at the woods.
Brothers Charles and Peter Connor were in the area walking their dogs and heard her screams and her dog barking.
McIntosh fled and was later traced in a house wearing bloodstained boxer shorts.
Mrs McDonald was left with two skull fractures, hand injuries and permanent scars.
She said she would only be torturing herself if she ever ventured back into the woods which had been her regular dog walking spot.
She said: "For me it's the devil in the woods. It's the monster. It's never going to be the way it was before.
"He's not human – he's pure evil.
"The part of his brain that would have to consider empathy and understanding and all those emotions doesn't work."
McIntosh's story was featured in the documentary Murdertown on the Crime and Investigation channel.
The programme also included interviews with former and serving police officers who were involved in bringing him to justice twice.
Mrs McDonald told the programme what happened to her was "just hell".
She said: "A lady called Joyce lay down with me and she just kept speaking to me and asking me questions. I begged her not to go because I didn't want to die on my own."
At the High Court in Aberdeen in February this year, McIntosh was handed a lifelong restriction order for the attack on Mrs McDonald.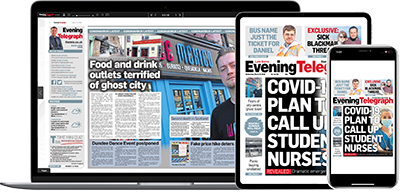 Help support quality local journalism … become a digital subscriber to the Evening Telegraph
Subscribe