The mercury broke through the 30C barrier as Tayside enjoyed one of the hottest days of the year.
Locals sunned themselves across the region this week – and the Camperdown bears were treated to an ice lolly – as the sun beamed down.
There were full benches and cafe tables as far as the eye could see as people made the most of the glorious sun.
Live readings from weather monitors in Perthshire detected temperatures as high as 30.5C.
In Dundee, where the coast air is cooler, the mercury generally remained in the mid to high 20s.
Earlier in the week, Aviemore recorded temperatures of 31.3C – making Wednesday the hottest day in the country for five years.
However, while there's some relief from the scorching heat from today onwards – with temperatures expected to peak in the mid-teens – conditions are expected to remain humid.
Becky Mitchell, meteorologist with the Met Office, said: "We saw a lot of temperatures in the high 20s and low 30s. Coastal areas have been a bit cooler, about 19C or 20C – in St Andrews we saw 19.4C.
"The high pressure conditions that brought about the warm and dry conditions are staying put, but it's going to cool off across the next few days.
"Although most places should be sunny, some clouds may move into eastern coastal places like Dundee.
"But by and large, it will be dry and bright."
The hot, dry weather has proved torturous for hayfever sufferers, with very high pollen counts recorded yesterday and no sign of it waning.
Becky added: "Pollen has been very high in the area and over the next few days it should drop a bit to a moderate level into the weekend – although it will increase again."
Locals are also warned to look after themselves even as the cloud moves in today and across the weekend, despite a high of just 16C expected on Sunday.
Despite the cover provided by the clouds, very high levels of UV radiation from the sun are expected – with peak exposure expected today and Sunday.
The Met Office's standard advice at times of high UV exposure is to apply plenty of suncream, wear a hat and sunglasses and seek shade from the sun whenever possible.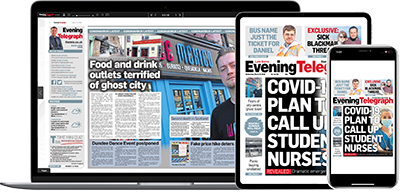 Help support quality local journalism … become a digital subscriber to the Evening Telegraph
Subscribe