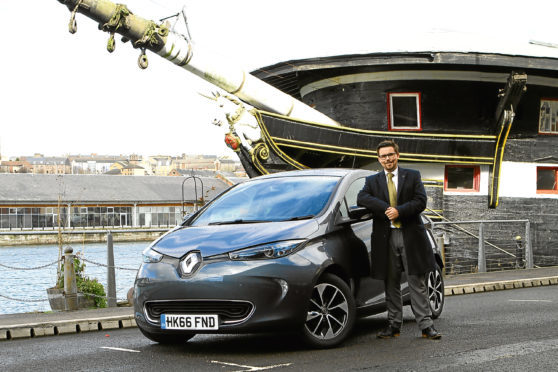 The first time I got the chance to test drive an electric vehicle in Dundee, I didn't know what to expect.
In an unrehearsed video for the Tele online, I spent three minutes warbling about things I am not an expert in, such as "infrastructure" and "electricity".
This made me look very silly. EVs are anything but silly now.
Instead of running our cars on liquefied dead dinosaur, the UK Government wants us all to drive pure EVs or hybrids — which use a battery to cut engine emissions — by 2040.
Here in Scotland, ministers in Edinburgh want to do that by 2032. And that isn't really very far off.
This got me thinking about important questions. If it's finally the EV's time, can you use the air-con without getting stranded and can you shake off their image problem?
People think you can't accelerate in them, or go fast. That you can't
listen to the radio. That they cost a fortune. They all look odd. And so on.
To find out if there's any truth to this, and to make sure I knew what I was on about, I asked Renault if I could borrow an EV for the week.
And from those seven days at the wheel, I'm happy to say most of these myths don't ring true — as long as you're willing to compromise.
For starters, they cost just a little more than their fossil-fuelled stablemates. The car I borrowed, the dinky five-door Zoe supermini, costs just over £18,000 — a few grand more than the petrol equivalent and that's after the taxman chips in a £4,500 bonus. But it came ably equipped, drove well, and is, for now, a money-saving machine.
There's no groaning about pouring £50 into the fuel tank when you're out of juice. Most charging points across Scotland are free and will top up your EV in less than three hours. Some will do it in under one.
And if you live in Dundee and tell the council you have an electric car, they let you park and charge for free.
A study by Moneysupermarket also reckons running costs for an EV are £2,500 less than a petrol car over six years. Electric motors also have fewer things that can go wrong.
I spent the week commuting back and forth into the city centre without having to charge up too often, but you can top it up as and when, like your phone.
While early EVs had a range of around 90 miles, the little Zoe can manage up to 186, meaning non-stop journeys to Aberdeen and Glasgow are feasible. I know this because I did them.
But, as an emerging piece of tech, EVs naturally have some drawbacks
.
My own car does 300 miles on one tank of petrol. And I don't have to wait two hours for it to fill up before I can set off again.
If charging points are in a paid car park, they are usually easy to find.
But if the car park they are in is free they will be abused by skinflints who sits at them all day.
And that's not very green. Plus, if you sit in the Zoe's tree-hugging Eco mode, it tops out at 60mph. Safe to say if you insist on channelling Prost or Hamilton on the M90 it's not for you.
But EVs are also better, in many ways. They scream up to 30mph if you need to make a quick getaway, making busy roundabouts stress-free.
And they're clever, regenerating power when you take your foot off the gas, especially on steep hills. You really can use the air-con, too. Above all else, though, I enjoyed my week with the Zoe because it made me feel good about myself.
You can hear birds tweeting as you glide along. I imagined sheep smiling at me as I made my way through Angus, as if to say, "I am not choking on your carbon fumes, and I thank you for this". And yes, occasionally, you feel a bit smug.
They might have once been the preserve of sci-fi, but with an appropriate degree of silence, EVs have arrived.
Come 2032, or 2040, I'm now in little doubt: the future of motoring really is positively electric.
Model among cheapest EVs on sale in UK
The supermini we borrowed to conduct our road test is one of the cheapest EVs on the market.
The latest Renault Zoe, unveiled earlier this month, starts from £18,420.
As standard, it comes with creature comforts such as cruise control, parking sensors, automatic lights and wipers and satnav which can hunt down charging points.
Using an app, you can also "pre-condition" the car's interior temperature before you get in.
Drivers must also pay a monthly battery rental to Renault, starting from £59, which insures the cell and includes 24/7 recovery.
You can buy the battery outright — at an additional £6,500 — but you'll miss out on the 24/7 cover.
The little Zoe is plucky on the road, keen to get up to city speeds of 20-30mph, and has the capacity to overtake on the motorway as required.
As a fairly sensible five-seater, it has a soft ride and, as you're atop a giant battery, the seating position is good too.
A higher-spec "Signature" model starts at £20,670 and boasts heated seats, a reversing camera and a nicer stereo.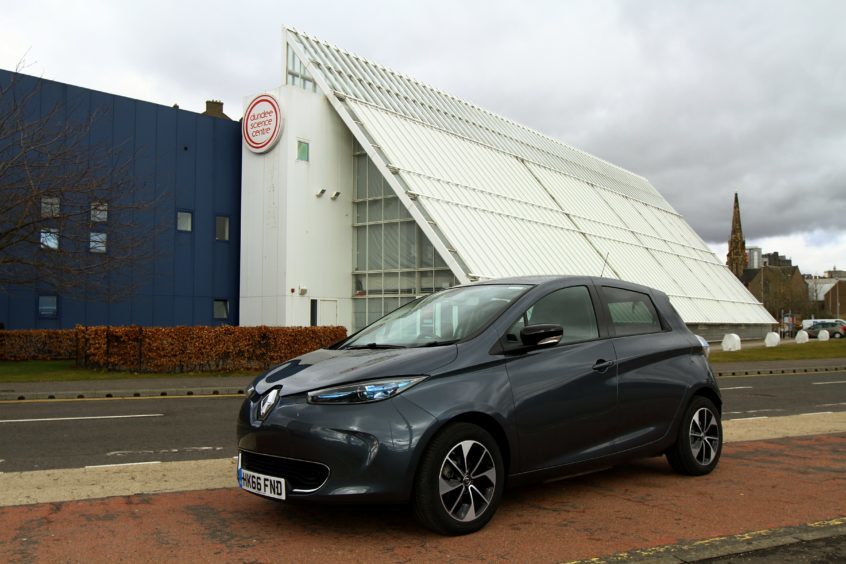 Renault offers two "engines", both of which have 107bhp and a range of 186 miles. One is a faster-charging option, for £750.
If you buy the Zoe new from Renault, the manufacturer will install a free charger at home as long as you have a driveway or garage.
If you'd rather buy second-hand, the Energy Saving Trust can provide grants to cover the costs.
Plus, Dundee City Council is working on charging "hubs" to ensure those who live in flats can buy into the EV dream too.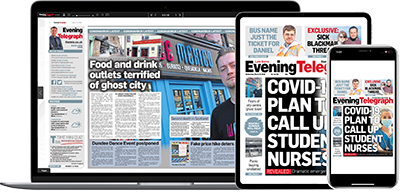 Help support quality local journalism … become a digital subscriber to the Evening Telegraph
Subscribe