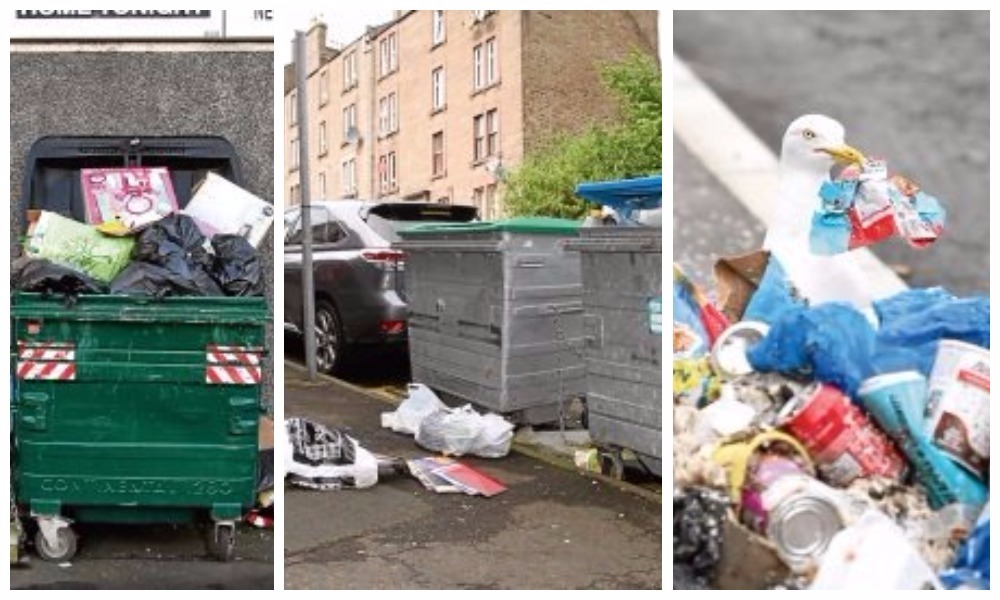 More than two-thirds of Dundonians are unhappy with recent changes to the city's recycling scheme, according to a Tele poll.
About 71% of those who completed our online survey said they were either "unsatisfied" or "very unsatisfied" with the roll-out of new bins to homes across the city.
The scheme, which aims to improve Dundee's lacklustre recycling rate, has seen new bins introduced to recycle a wider range of materials.
Collections of landfill waste have changed from weekly to fortnightly for many residents, while some housing schemes and flats have also had wheelie bins replaced with communal Eurobins.
Residents who were previously able to recycle glass at the kerbside have now been told to take it to 'bring sites' instead, in line with the whole city.
Bin collections have been missed, leading to overflowing containers, litter in the streets and residents complaining of bad smells.
In some areas, bins have even been delivered and then removed to meet demand elsewhere in the city.
The 204 readers who took part in our poll rated the quality of their recycling service .
Janice Brough, from Downfield, said that the changes to glass recycling were a "backwards step".
She added: "Lots of people won't bother to go to the nearest glass bin.
"No point in recycling if people are having to use cars to take glass to recycle points."
Gemma McIntosh, 24, from Ardler, said: "The sudden change in collection dates has caused a lot of confusion and has forced residents to jump into the deep end in this scheme."
Fintry woman Norma Donald said that since the switch to Eurobins the quality of waste storage at her flats had dropped dramatically.
She wrote: "The general waste bins for flats are not big enough and waste is spilling over the sides days before they're due for emptying. One bin does not suffice for 18 flats."
Steven Harris, 55, said: "It has made me recycle more – but now I can't get parked where I live as the bins now take up parking spaces."
Hamish Macpherson, from Broughty Ferry, said: "The Eurobins are ruining the aesthetics of Dundee."
Peter Swift, from Ardler, was mystified as to why his new glass bring site had already disappeared.
He said: "We have no local glass recycling bins installed yet. These were delivered several weeks ago and then removed about two days later. The glass bins need to be returned."
Stuart McKiddie, 34, said the sheer number of bins was causing him space issues.
He said: "Five bins is too many. My garden is not big enough for this.
"I am all for recycling but it feels like residents are doing the job for Dundee City Council."
Some readers said the Marchbanks recycling centre, which closed four years ago, should be re-opened.
However, many were happy to do their bit from home, including Douglas resident Mandy Tait.
She said: "I used to have to take all plastics to recycling centres. Now I only have to take glass as I have a bin for everything else.
"If you use them, the two-weekly collection is adequate for your general waste bin. I have three adults in the house and it has not been full."
Those polled were split on whether the changes need have occurred at all.
About 45% said more recycling had to be done around the city, while 42% were of the opinion that enough was being done.
'We're aware how frustrated folk are'
Dundee City Council's neighbourhood services convener today said he was "acutely aware" of the frustrations of residents across the city.
Responding to the results of the Tele's reader survey, Kevin Cordell said the council was working to ensure the new recycling scheme would ultimately work as planned.
He said: "Many residents who have been having issues and questions about the rollout of the new waste and recycling collections have been in touch with the council.
"We are acutely aware of how frustrated people are with the level of service they are getting, and it is not what they would expect or deserve.
"The council is working very hard to implement the full service to all residents and deliver the city-wide coverage for recycling collections as planned."
Dundee's reputation as Scotland's "recycling city" has been lost in recent years.
The most up-to-date figures show that the city only recycles 37.7% of its waste — far less than neighbouring councils. The new recycling scheme brings Dundee into line with Scottish Government guidelines on the best practice for recycling raw materials.
The guidelines recommend that residents should separate waste at home — hence people now having more bins than before.
By 2018, the city is expected to be recycling 50% of its waste, rising to 70% by 2025.
Mr Cordell added: "I would ask that people please bear with us and continue to give us their support to help increase recycling rates across the city, which will help Dundee to achieve national targets."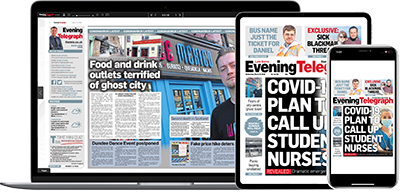 Help support quality local journalism … become a digital subscriber to the Evening Telegraph
For as little as £5.99 a month you can access all of our content, including Premium articles.
Subscribe